Remember when you could get free beef with a set of tires from Les Schwab? We considered bringing it back but realized not everyone is into meat nowadays. Then we thought ­— let's give away free beets. But lots of people don't love beets, either. So, we decided to make cool T-shirts and raise money to support the Oregon Food Bank to help get free food to those who need it the most.
Purchase a Free Beef or Free Beets T-shirt and 100% of all proceeds will go to the Oregon Food Bank. T-shirt sales will close March 22, 2020.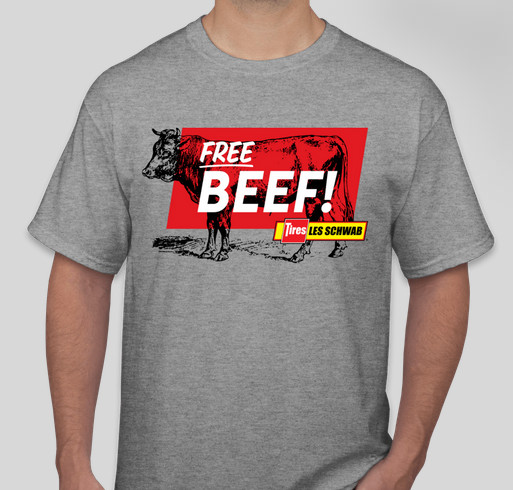 Also available in yellow
Shop for Free Beef T-Shirts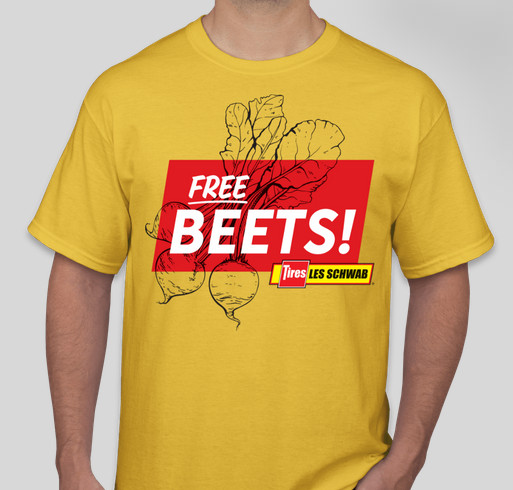 Also available in grey
Shop for Free Beets T-Shirts
---
About Oregon Food Bank
Oregon Food Bank's mission is to eliminate hunger and its root cause. Oregon Food Bank collects food from farmers, manufacturers, wholesalers, retailers, individuals and government sources. They distribute that food through a Statewide Network of 21 Regional Food Banks and approximately 1,200 food assistance sites serving all of Oregon and Clark County, Washington.
About Les Schwab Free Beef campaign
The annual Les Schwab Free Beef campaign ran for more than four decades as a way to thank our local farmers, ranchers, and customers.
The year 1962 produced at least two culturally iconic events: Marilyn Monroe sang Happy Birthday to President Kennedy, and Les Schwab thought up his first free beef campaign. We think Les' idea was far more noteworthy.
It started with a call from a member of the Crook County Oregon Cowbelles, an auxiliary of the local Cattlemen's Association. The organization was selling beef gift certificates and hoped Les would buy some for his employees. Les agreed and went several steps further.
In 1964, he kicked off the legendary Free Beef promotion. Each February, customers were given free beef with their purchase of four tires. It was a way for Les to thank customers and to show gratitude to the farmers and ranchers of the West. "We've enjoyed doing it," Les recalls in his biography Les Schwab: Pride in Performance Keep it Going! "It helps promote the sale of beef and it has been good to our company too."
As with everything, it couldn't last forever. The logistics of installing and maintaining more than 400 freezers and safely handling and distributing more than 100,000 pounds of beef became increasingly complex. Since the last free beef promotion ran, we've focused on our world-class warranties and additional services that come free with every tire purchase all throughout the year.
---