The Importance of Trailer Brakes and Wheel Bearings
Anytime you hook up your trailer and venture out into traffic, you're putting a lot of faith in your wheel bearings and trailer brakes. When they stop working properly, it can end your outing fast. Here's what those parts of your trailer do and why regular inspections should be an important part of your pre-adventure ritual.
If you have questions about trailer tires and wheels, be sure to check out Trailer Tires Dos and Dont's.
What Are Trailer Brakes
A trailer uses drum or disk brakes similar to those on a passenger vehicle. The brakes on most trailers are activated when the tow vehicle sends it an electric signal. This signal is transferred through the same vehicle trailer connector that manages the turn signals and brake lights.
Does Your Trailer Have Brakes?
All trailers are required to have electric brakes if their GVW (Gross Vehicle Weight) exceeds 4,500 lbs. If you have a bigger or older trailer, it may have brakes. Not sure if your trailer has brakes? Stop by Les Schwab and we'll take a look.
Every State Has Trailer Brake Requirements
Be sure to check the rules where your trailer is registered and where you'll be traveling. Some states require you have brakes based on the GVW of the trailer, while others base the need on the total percentage of the GW of the towing vehicle when connected to a trailer.
Trailer Brakes Minimize Wear on Your Tow Vehicle
When you don't have brakes on a camp trailer, your tow vehicle will need to do all the work to stop the trailer. This might not be a problem when going up into the mountains, but can overheat your vehicle's brakes when you're coming back down. We've put together some added information if you want to learn more about brakes.
An Introduction to Wheel Bearings
The wheel bearings on a trailer are located inside the wheel hub assembly. This connects the wheel to the axle to help provide friction-free movement. Without your wheel bearings, your tire and wheel assembly cannot spin.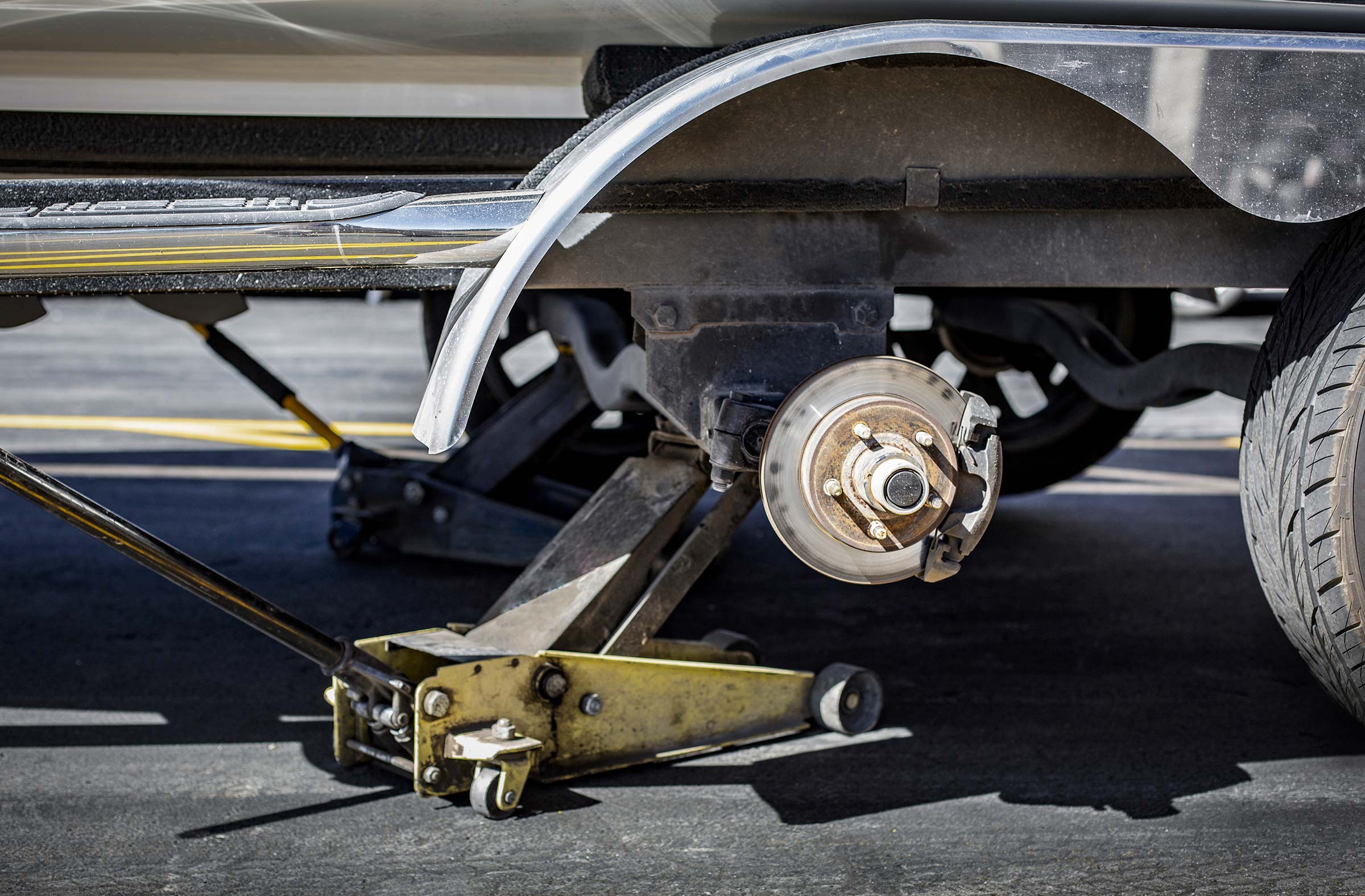 Wheel Bearings Are Essential
While properly greased wheel bearings help your wheels spin freely, faulty wheel bearings can do the exact opposite. Without properly working wheel bearings, you won't be pulling your trailer very far. At best, the wheels could seize up, which could leave you stranded on the side of the road or at your campsite. Worst case, those wheels could lock up while you're on the highway going 60 MPH. Both options are not ideal.
Get Them Inspected Regularly
Even if your trailer came with bearings that you can grease on your own, it's not a bad idea to have them inspected. You can get too much grease into your bearings, which can cause issues. Swing by Les Schwab and we'll give them a quick look. We can also talk to you about a regularly scheduled maintenance plan to keep you one step ahead of potential issues.
Les Schwab Knows Trailers
Stop by Les Schwab and we'll inspect your trailer bearings and brakes. Our pros know how to repack or even replace the bearings, and can get your brakes working like new. Depending on the trailer, we'll check out your suspension too. That includes the springs, shackles and shocks.
Schedule an Appointment