Are All-Season Tires Okay in the Snow?
All tires are purpose-built. Walk along the aisles of your local Les Schwab and you'll see just how different they are, from the tread design to the sidewall. Even the type of tread compound makes a big difference. Before you face the coming winter in a set of all-season tires, it's important to understand the difference between all-season and winter tires, and what kind you need to safely navigate the rain, snow, ice, and freezing temperatures.
The Difference Between All-Season and Winter Tires
All-season tires are designed for a smooth, quiet ride in most conditions. Many all-season tires do great in the rain and bare pavement year-round. While a set of all-season tires can offer some traction in light snow and the occasional winter storm, they're not designed for deep snow, ice, and cold weather (when temperatures stay below ~45º F).
Winter or snow tires are designed for prolonged winter conditions, including snow, ice, and slush. The tread compounds in those tires stay softer and more flexible in cold weather. This improves traction, handling, and control when temperatures dip below ~45º F. Additionally, the biting edges of the deep, wide, and jagged tread on snow tires maintain traction in the harshest conditions. A winter tire that includes studs can add even more traction when driving on icy roads.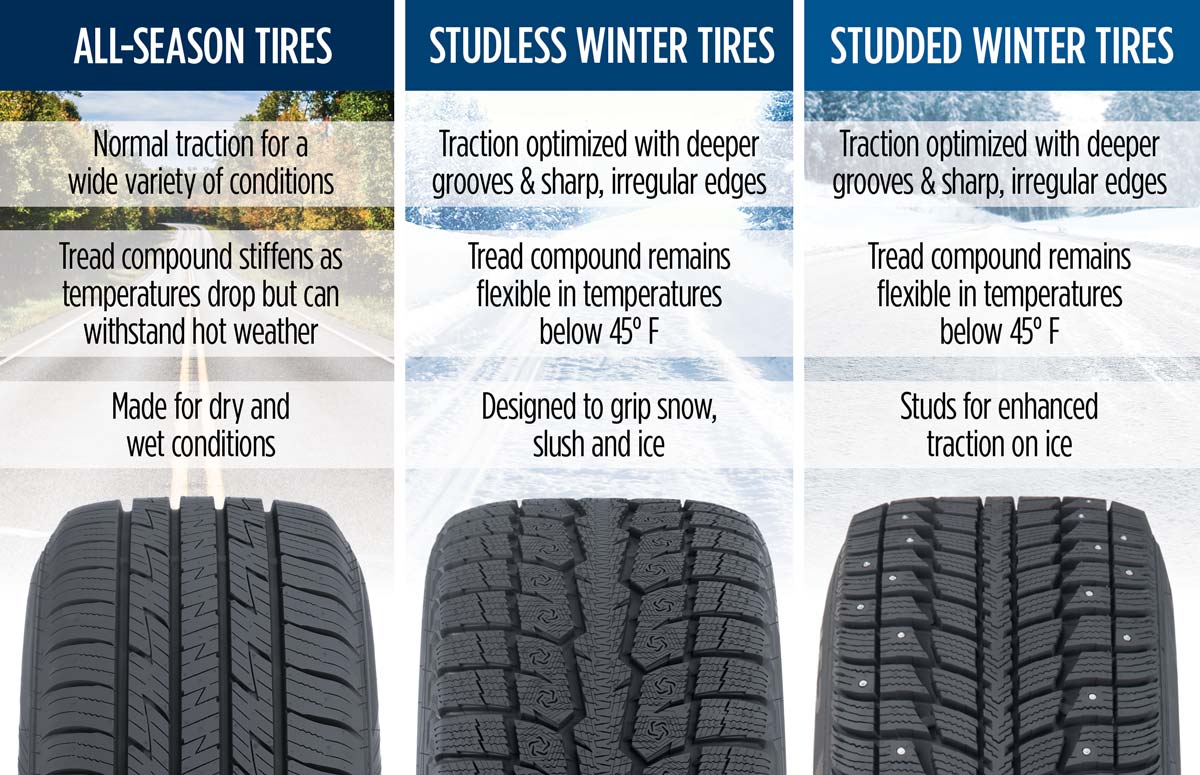 | | WINTER/SNOW TIRES | ALL-SEASON TIRES |
| --- | --- | --- |
| ROAD CONDITIONS | Snow, ice, rain, and slush ~45ºF and below. | Rain, dry, some light snow ~45ºF and up. |
| TREAD | Deep, wide, jagged tread offers better traction in winter road conditions. | Shallower grooves offer comfort and control in most road conditions. |
| RUBBER COMPOUND | Rubber compound stays soft and flexible in cold weather to help with grip. | Rubber compound performs best above ~45ºF, and is designed for longer tread life. |
| SIPING | Winter tires will typically have more siping to maximize grip in winter-driving conditions. | Siping in all-season tires dissipates heat and offers some added traction in wet conditions. |
Stopping and Control are Important
When you're on bare or wet pavement, the right set of all-season tires are designed to keep you safely on the road. They even do okay in mild winter conditions. But when the weather worsens and roads are covered in ice and snow, having the right set of winter or snow tires can help you stay in control of your vehicle. That includes stopping. Think about it this way, when going on a long hike, a pair of hiking shoes will help you traverse almost any terrain. Even some snow. But when you get to packed snow and ice, snowshoes are the only way to go. They're designed for winter conditions.
Should You Own a Set of Winter Tires?
The answer depends on what kind of winter driving you do. Installing a set of snow tires on your vehicle from November to March can be a good idea. Especially if you're going to the mountains every weekend or your town gets hit hard by winter weather and stays at or near freezing for months at a time.
Additionally, doing seasonal changeovers between snow and all-season tires will help extend the life of your snow tires.
Les Schwab Tip: A set of chains that fit your vehicle can help keep you safely on the road when your all-season tires lose traction.
Get Your Winter Tires (and advice) at Les Schwab
As winter approaches, your local Les Schwab can help you decide if a set of winter/snow tires is right for you, and whether you need studs. Plus, we can help fit your vehicle for a set of snow chains for your next trip into the deep stuff.
Schedule an Appointment