Starting Problems? How to Tell If It's the Battery or Alternator
If your vehicle won't start, it's usually caused by a dying or dead battery, loose or corroded connection cables, a bad alternator or an issue with the starter. It can be hard to determine if you're dealing with a battery or an alternator problem. Here's how to know which one is the culprit.
Bad Battery Symptoms
If the cranking of the engine is sluggish, like your vehicle is harder to start on cold mornings, it starts inconsistently, or there's no sound and interior lights when you try to start, suspect a failing battery, a loose or corroded connection or electrical draw. A low battery that has visible corrosion on the terminals is probably damaged.
If jumpstarting works, then you know you've got a battery problem. But you also need to figure out whether it's simply at the end of its life or there are underlying issues. A dead or low battery can be caused by a failing alternator. It can also result from additional draw from auxiliary lights, fuses, sound systems, alarms and such.
Signs of a Bad Alternator
Some of the things to look for are no-starting and trouble starting, dimming lights and problems with stereo system output. If your car starts but stalls when you're underway, your battery is probably not being recharged due to a faulty alternator. A squealing sound coming from the engine that gets louder when drains like the heater or sound system are on may be your alternator bearings.
Another telltale is turning the AM radio to a low number on the dial without music, then revving the engine. If you hear a whine or the sound goes fuzzy when you hit the gas, your alternator is probably failing.
If the vehicle won't crank or start but the headlights are still working, look to problems with the starter or other parts of the engine.
If you have a check-engine or battery indicator light illuminated on your vehicle, it could indicate a problem with an automobile charging system, or if your vehicle gets a jump-start and immediately stops running, it could be an indication that the alternator is malfunctioning. It's important to bring this into a professional for a proper diagnosis.
What the Battery & Alternator Do
An auto battery supplies a big electric charge that travels through the starting system and turns some gears to start the car. Once the car is running, the alternator sends current back to recharge the battery as you drive. It supplies power for your car's electronics when you're underway and makes sure the right amount of charge goes back to the battery.
If Your Car Won't Start
The common signs above should help pinpoint what exactly is going wrong.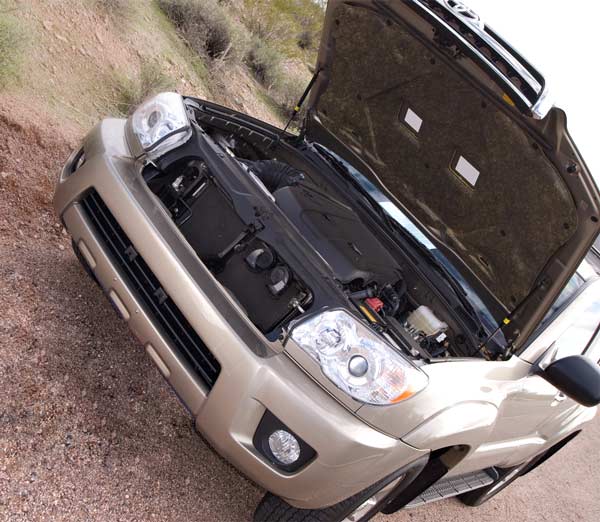 If you're not wanting to do your own diagnostics, get a jumpstart (and keep your vehicle running) and take it in for a technician to check your electrical system. Both the starting and charging systems should be inspected.
Battery checks on standard wet-cell batteries should include inspection of fluid level, the posts (the terminals marked + and -) for corrosion, and cables for snug connection and no corrosion.
An electronic battery test should be done, which gives more information than a standard load test. It measures the voltage and cold cranking amps (CCA). (Battery inspections and charges are free at Les Schwab Tires.)
The shop should also check the alternator's voltage and current output and look for signs of bad diodes, the components that convert electrical current from AC (alternating current) to DC (direct current). If it's time to replace it and your vehicle has been customized with power-hungry aftermarket accessories like a sound system, ask if you need a higher-capacity alternator.
If the alternator is working fine, the search for the problem will move to other parts of the starting and charging system.
Got a Bad Alternator?
It may have damaged your battery. Since the alternator regulates how much electric current gets fed back to the battery during recharging, the battery may have overheated due to overcharging. This shortens its expected life and can make it unreliable. Ask whether you need a replacement if you're having alternator repairs done.
If it's your battery that's bad, it won't damage the alternator.