Batteries for Anything You Drive
Les Schwab is well known for having the West's largest selection of tires. Here are four reasons to come to us for batteries as well.
1. Vast Selection
We have an inventory of quality batteries to power just about anything that rolls:
Cars, light trucks and SUVs
Commercial vehicles and heavy-duty trucks
Motorcycles
Motorhomes/RVs, fifth-wheels and other campers
Boats, including personal watercraft
Off-road vehicles (four-wheelers/quads and side-by-sides)
Farm tractors and equipment
Golf carts
Lawnmowers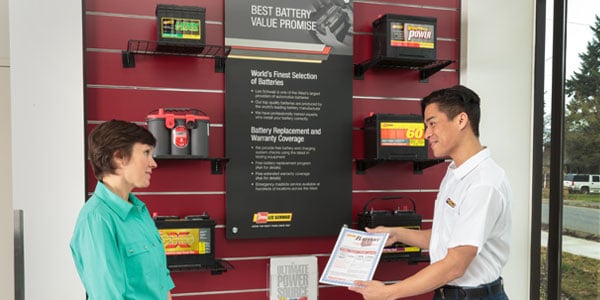 2. More for Your Money
What we say about tires also goes for our batteries: If we can't guarantee it, we won't sell it. Our best-in-the-business battery warranty includes a replacement program. We'll replace standard batteries that are deficient absolutely free for a period between 12 to 24 months, depending on the battery. For motorcycles, golf carts and the like we provide replacements for failed batteries up to six months after purchase. The period for RV, commercial and marine battery replacements extends for one year.
And if your battery fails any time before its expected life after that, we'll refund you the difference. For some batteries, that can mean coverage extending up to seven years.
You'll also get free auto battery and charging system inspections with your purchase. And you can stop by for a free battery charge at any Les Schwab whenever you want.
3. Expert, Friendly, World-class Service
Our technicians are equipped with state-of-the-art battery diagnostic tools and are well trained in batteries and charging systems. A problem you suspect is being caused by your battery may actually be something wrong elsewhere in the charging system. (Read more.)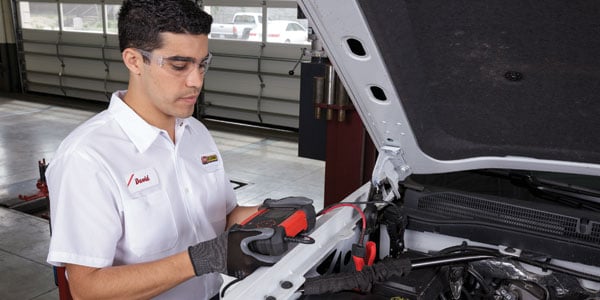 We check any vehicle battery charge for free, whether you bought it from us or not. We'll give you an honest answer on whether you need a new battery. If you do, one of our service techs will help you decide what battery is best for the job, the vehicle and your budget. Then we'll install it quickly so you can get on your way without delay.
4. Hundreds of Locations
You can buy, get service on or redeem a warranty for Les Schwab batteries at any of our 480-plus locations across the West. Not sure if you need a new auto battery? We'll check your battery's charge while you wait — for free.
For a quality battery backed by a great warranty, come to a Les Schwab Tires near you.
Shop for Batteries