How to De-Winterize Your RV
Time for camping and summer road trips? While your owner's manual likely has a list of items specific to your vehicle that should be checked, here's a checklist of 22 things you should be certain to take care of before your first ramble in your motorhome. The advice will apply to travel trailers, too.
Inspect the Outside
Check beneath the vehicle for signs of leaking fluids. If you see any stains or puddles, you should take it in for service.


Look carefully at the tires. When a vehicle is parked for long stretches, tire condition can degrade. Tires can be damaged by sun exposure, weather and pollution. Sitting in one place for too long can also cause a flattened spot to develop on the portion of the tires that has been supporting all the vehicle's weight. If there's any cracking or bulging, a tire may need to be replaced. Also, top off the air pressure and test to make sure the lug nuts are secure.


Even if the tires appear in good condition, repack wheel bearings with grease. It's important for safety, since the vehicle's weight rides on the wheel bearings. Do it yourself or come to us.


Make sure headlights, tail lights, high beams and blinkers are working.


Clear the exhaust pipe if you blocked it to keep out mice.


Look over the full exterior, including the roof. You're looking for peeling paint, cracks and gaps at seams, or rust, all of which will need repair. Don't forget to check the A/C air filter in case it needs to be cleaned or replaced.


Roll out and clean your awning, and check them for holes. Don't wait to repair them; they'll expand and become a bigger problem if you delay.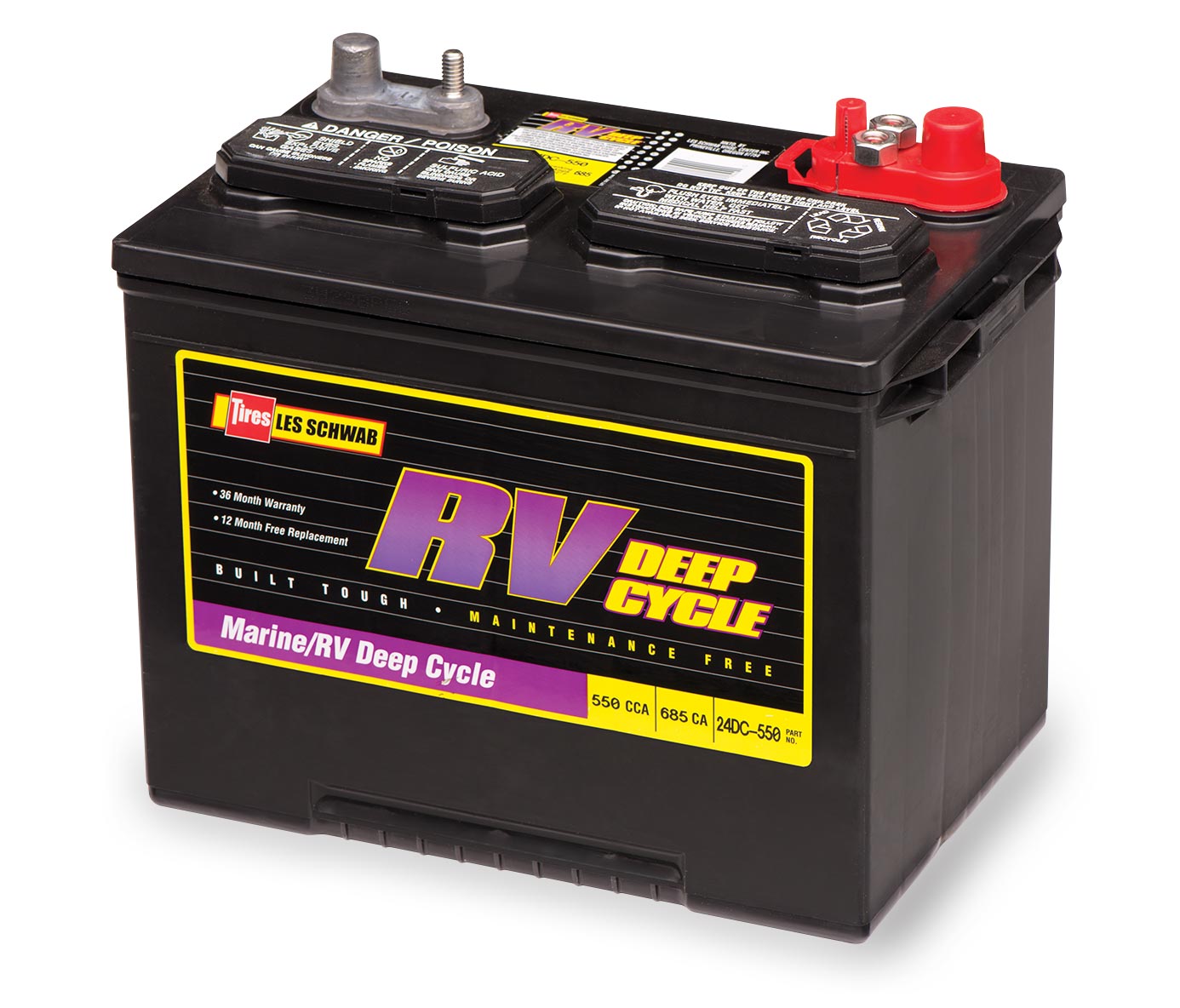 Under the Hood
Tend to the batteries. (Les Schwab Tires does free battery charges and checks.) If your motor home was stored someplace warm, look for corrosion around the battery connections. Clean it off carefully. If your battery fluid is low, get it topped off. If you live someplace that freezes a lot in winter, you probably removed the batteries before storage. Reconnect them, making sure clamps are snug and there's no corrosion.


Check for rodent damage, cracks and loose hose and wiring connections.


Check the oil. Moisture can get into the fuel system in cold weather, so consider changing the oil and filter even if you're not due.
Prepare the Plumbing System
If you used RV antifreeze to protect the water system from freezing, drain it from everything, including the water heater and holding tanks. (Dispose of it properly to protect fish and waterways.)


Flush the plumbing thoroughly with clean water: Fill up the fresh water holding tank, turn the water pump on and run all faucets. Make sure water cycles through everything, including the washer, icemaker, outdoor shower and water heater (if it wasn't bypassed when you added the antifreeze). When you see clear water running through the system, turn off the pump and shut off the faucets.


Now sanitize the plumbing. Chlorine-free water system cleansers are available, or you can use one-quarter cup household bleach per 15 gallons of water. Close all drains and put drain plugs in place, pour the cleaner into the fresh water tank and fill with water. Turn on the water pump and run water through all hot and cold faucets until you detect the cleanser, then turn off the faucets and pump. Let it sit for 12 hours before draining and refilling with clean water. Repeat until any remaining cleanser is flushed. Make sure to cycle through all tanks.


Reinstall any water filters that were removed for winter storage.


Go to a waste disposal site to empty the dirty water you've flushed through the system from your gray and black water holding tanks.
Check the Living Quarters
Once the water system is clean and the water heater is full, check the electrical systems. As your house batteries recharge, you can make sure the fridge is cooling, flip lights on, plug in the toaster, microwave, and coffeemaker, run fans and check power outlets. If something's not working, try resetting your breaker switches.


Run the slides out, listening for any cracking or popping sounds. If so, your seals or the slide mechanism may need lubrication or hydraulic fluid may need to be topped off. Also, make sure slides look centered. If not, they may need to be adjusted.


Open the main propane gas valve, then check to make sure gas appliances are working, including all stove burners. (Also, get a leak test and gas operating pressure test done annually.) Check the water heater, upping the thermostat until the furnace turns on. Try running the refrigerator on gas to make sure it will keep working when you're underway.


Inspect the cabin for any signs of mold, rodents, and insects. You may have to wash bedding, cushions or window treatments if there's been a strong odor trapped inside. If there's been a pest invasion, find areas they may have gotten in and cover them.


Verify your safety systems and kits are in working order: smoke and carbon monoxide detectors, flashlights, fire extinguisher, emergency road kit and first aid kit. Replace batteries as needed.
Check Fuel & Brakes
Start the engine. If you filled up and added stabilizer before storage, you're probably good to go. Fuel stabilizer can keep fuel fresh for around two years. But if you didn't, or the vehicle sat for more than a year, it may not want to start. Try adding starter additive to the stale fuel.


While parked, tap your brakes, making sure you feel the right amount of pressure and the pedal doesn't sink to the floorboard. If anything seems amiss, have brake pads and shocks examined.
Now you're ready to hit the road and make some summer memories.
Learn More