6 Fall Color Day Trips Near Denver Not to Miss
That extra chill in the morning air means fall colors will soon be peaking. Here are six of the best leaf-peeping drives you can do from Denver in an afternoon or a day. Don't delay: The best time to experience Mother Nature's autumn art show is September through mid-October.
Before You Go
Check your tire pressure. You lose some tire pressure (tires get slightly flatter) as you travel to higher altitudes, since the atmospheric pressure decreases (as in the expression "thin air"). Colder temperatures will also cause a slight loss in tire pressure.
If you're just planning on a day trip, all you need to do is fill your tires to the full, proper PSI (pounds per square inch) before you leave and be sure they aren't underinflated. Although your tires will lose about two PSI if you travel from 5,000 to 10,000 feet in altitude, they'll regain this PSI upon descent. If your autumn adventure extends over several days, it's a good idea to have your tire pressure checked and set the morning after arriving at altitude and when you get back home.
Check road conditions. Fall weather is unpredictable and roads can become impassable with little notice. Know before you go.
1. Eldorado Canyon State Park and Clear Creek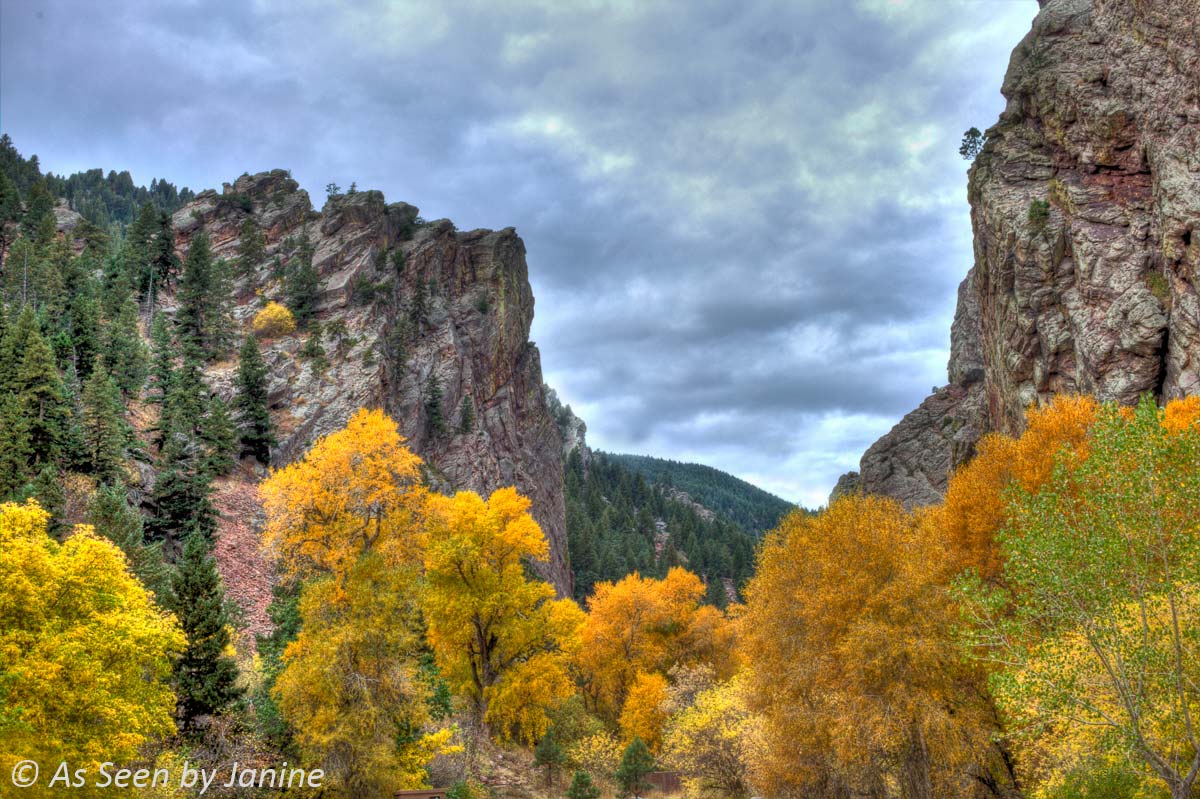 The Drive: 51-mile loop trip, around 90 minutes
Considered one of 10 state parks not to miss by SmarterTravel.com, Eldorado Canyon State Park is easy to get to and fall leaves aren't the only allure here. Hiking, mountain biking, horseback riding, climbing, picnicking, wildlife watching and fishing are all popular uses. It's also a great destination for birders, with recorded sightings of golden eagles, prairie falcons, wild turkeys, blue grouse and about 75 other species.
Get there early and bring the $8 entrance fee. When parking reaches capacity, you may have to wait until another vehicle leaves to enter.
Return via Golden and stop for a walk along the Clear Creek Trail, a paved path framed by colorful trees along a bubbling waterway.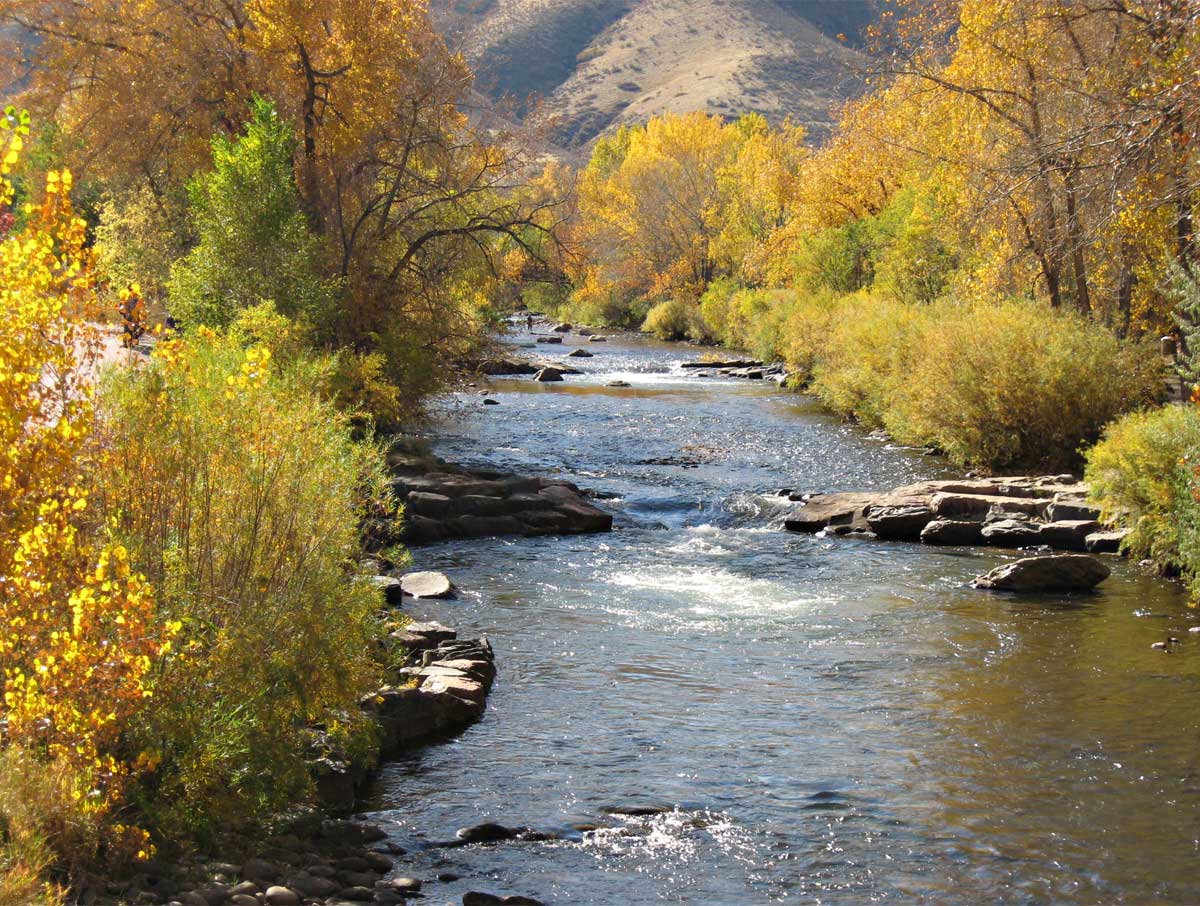 Click for the route to Eldorado Canyon State Park and Golden.
2. Guanella Pass
The Drive: 123-mile loop trip, 2 hours 45 minutes
The 11-mile stretch of Guanella Pass Road between Georgetown and the Mount Bierstadt trailhead provides as-good-as-it-gets leaf peeping without leaving your car. Admire vivid reds, yellows and oranges and contrasting greens of aspens, willows and evergreens, along with plenty of vistas around every switchback. Don't miss the view of Mount Bierstadt and Mount Evans from the parking lot at the top of the pass, which has an elevation of 11,600 feet.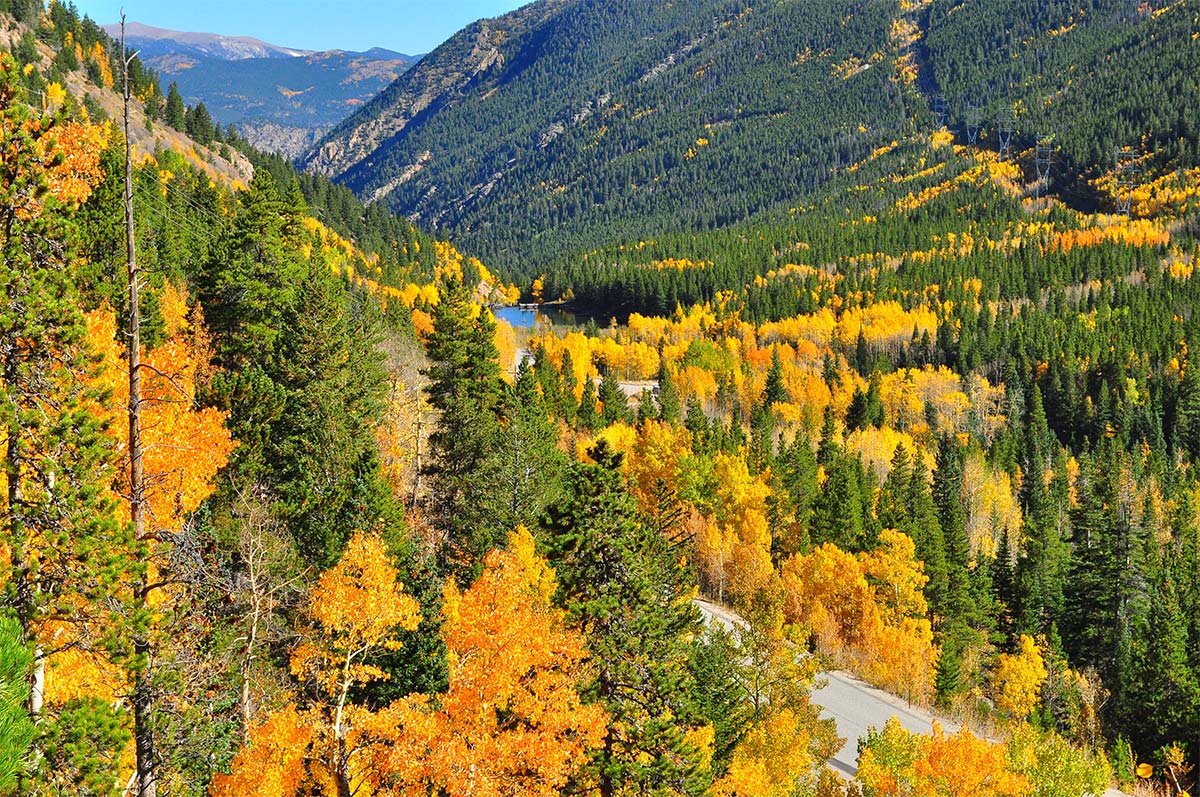 Other nice stops along the way are the Mount Bierstadt Trail, suitable for hikers and picnickers young and old, the quaint town of Bailey and Staunton State Park.
Click for the route to Guanella Pass.
3. Collegiate Peaks Scenic and Historic Byway
The Drive: 254-mile loop trip, 4 hours 40 minutes
The Collegiate Peaks Scenic and Historic Byway goes from Granite to Buena Vista to Salida to Poncha Springs. Some of the best scenery is in the stretch between Granite and Buena Vista, where the fall foliage has Buffalo Peaks as a stunning backdrop.
You'll parallel the Continental Divide at the foot of the Sawatch Range, with views of the highest concentration of 14ers in the country. You'll also follow a good stretch of the Arkansas River with its famed white water.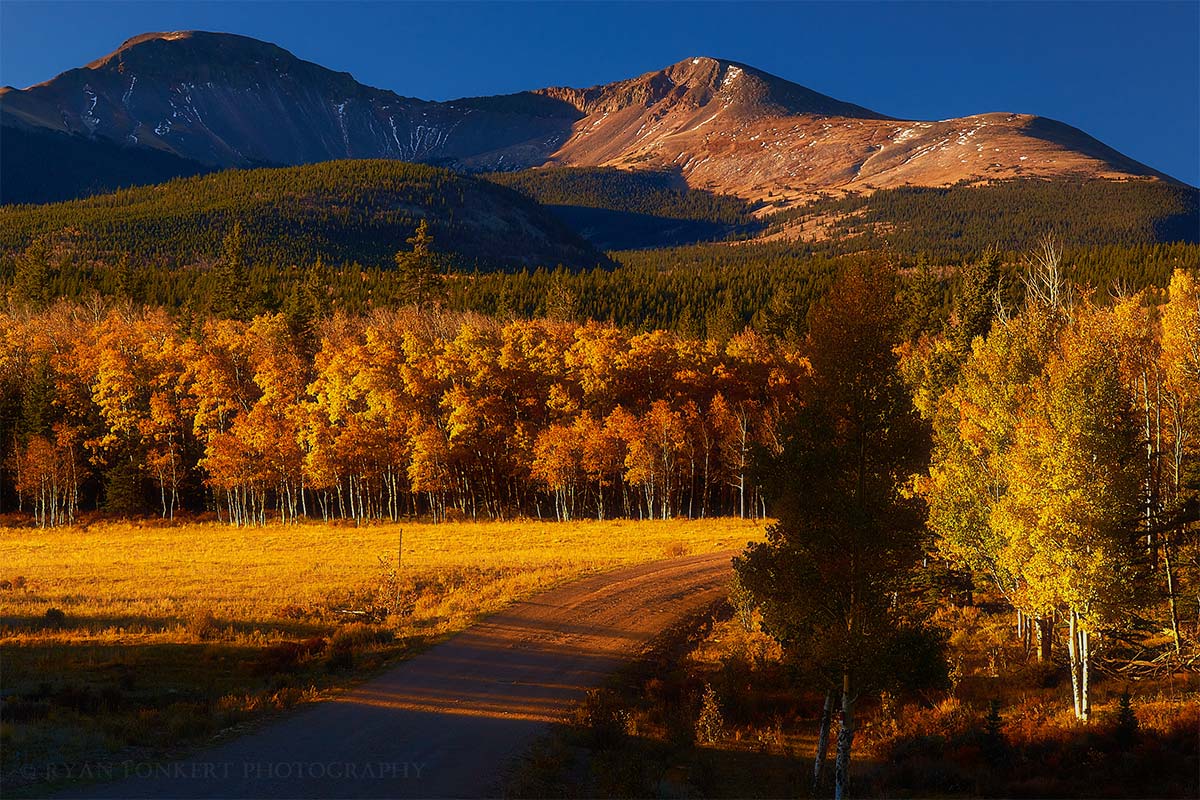 Click for this portion of the Collegiate Peaks Scenic Byway.
4. Golden Gate Canyon State Park
The Drive: 49-mile round trip, 1 hour 15 minutes
A short drive from west Denver will get you to this state park with miles of hiking trails, rocky peaks, and aspen-filled meadows. Enjoy fishing ponds, picnic sites and the Panorama Point Scenic Overlook, where visitors can see 100 miles of the Continental Divide.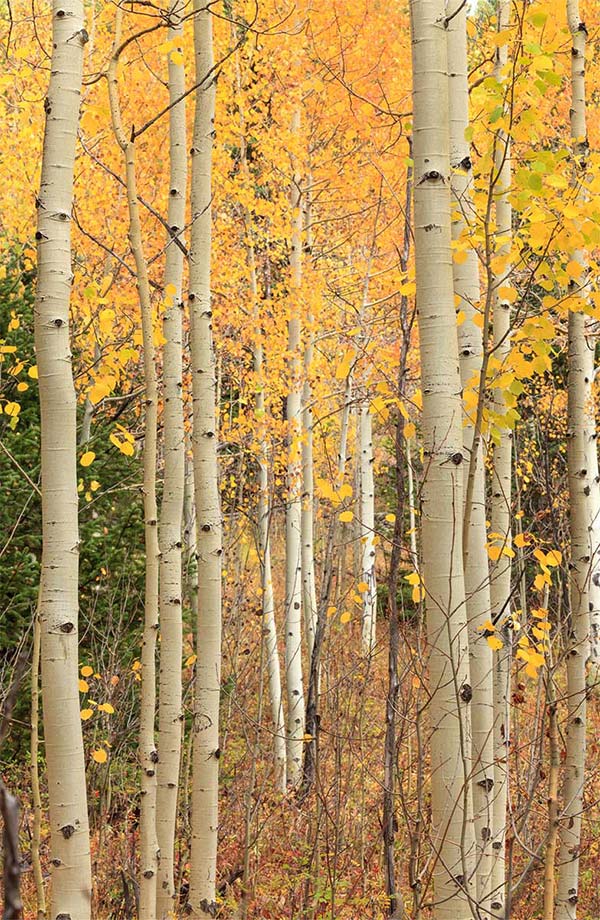 >Don't miss the 3.6-mile Horseshoe Trail which meanders along a running stream past boulders, stands of aspen, meadows and mountain views.
Click for the route to Golden Gate Canyon State Park.
5. Kenosha Pass
The Drive: 126-mile round trip, 2 hours 30 minutes
The Kenosha Pass Trail is hard to beat for autumn scenery. Walking just 3 miles on the east side of Highway 285 will lead you through dazzling stands of aspens to a 270-degree view of green and gold forests with 13ers and 14ers stacked up behind.
Click for the route to Kenosha Pass.
6. Peak to Peak Scenic and Historic Byway
The Drive: 149-mile loop trip, 3 hours 40 minutes
Colorado's oldest scenic byway, the Peak to Peak offers some great tourism sites along with spectacular foliage. This drive takes you through Rocky Mountain National Park and offers up views of the Continental Divide. Look for mine tailings (scrap rock from Gold Rush mines that was dumped down the sides of mountains) along the road from Ward to Black Hawk. A short side trip just before you get to Black Hawk will take you to the lesser-known ghost town of Apex. Also worth a detour: the 1890s-era Goldminer Hotel, listed on the National Register of Historic Places, located a few miles west of Nederland.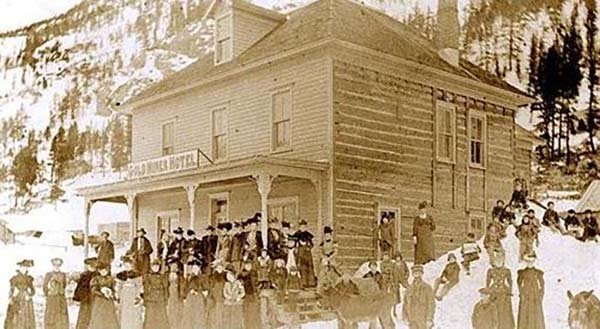 Click for the route to the Peak to Peak Byway.
Tire pressure checks are always free at Les Schwab Tires. Stop by before and after your high-altitude adventures.
Find Your Store