When to Choose All-Season or All-Weather Tires
Having the right set of tires on your vehicle is essential for safe driving in any season. Depending on where you live and the weather you face, a set of all-weather or all-season tires might be ideal for year-round traction and control. Let's look at the differences between these two types of tires to help you decide which ones are right for you.
A Word on Winter Tires
If you often face harsh winter weather, including heavy snow and icy roads, winter tires (also called snow tires) may offer the best traction. That's because winter tires are made especially for optimal performance on winter roads with special rubber that stays flexible under 40º F. Plus, the deep, wide, and jagged tread on snow tires helps maintain traction while the channels move water away from the tires.
Looking for even more traction? Many winter tires have studded options, giving you more grip on ice. See our article How to Choose Snow Tires for more.
While they do perform well in the snow and ice, winter tires are not recommended for year-round use. That's where all-season and all-weather tires excel.
Why All-Season Tires Are so Popular
All-season tires are very popular thanks to variety and choice. There are a lot of all-season tires to choose from, which can help you get the performance benefits you want in your tires. Additionally, all-season tires give drivers optimal tread life, good traction in the rain, a quiet and comfortable ride, and offer mud and light snow traction when they carry an M+S rating. As long as temperatures stay at or above 40º F, everything is fine.
However, all-season tires are not optimized for winter driving or recommended for severe snow conditions. When the temperatures drop, the rubber in all-season tires hardens, increasing stopping distance and reducing control. Read Are All-Season Tires Okay in the Snow for more.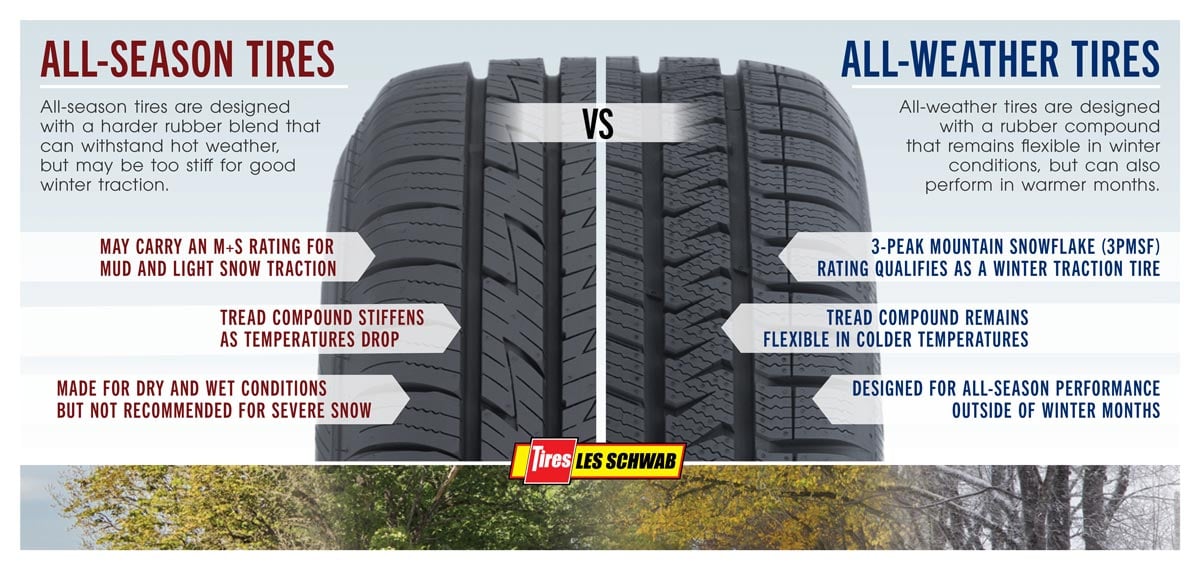 All-Weather Tires Give You Year-Round Traction
If you consistently face winter driving conditions but don't require or want a set of dedicated winter tires, all-weather tires could be the right fit.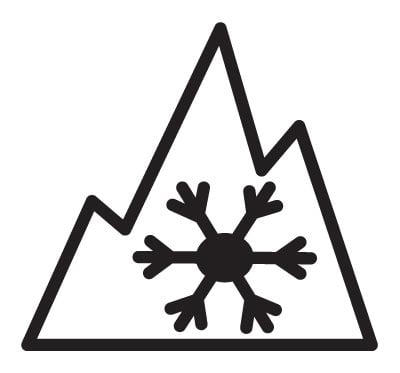 All-weather tires have many of the same features of an all-season tire with a better tread life and a quieter ride than a dedicated winter tire. Plus, they carry the 3-Peak Mountain Snowflake rating (see icon), which qualifies as a winter traction tire for mountain pass restrictions.
These tires are made from a special rubber compound that stays flexible in colder temperatures, but still performs like an all-season tire outside the winter months. A set of all-weather tires can give you peace of mind for a coming snowstorm while keeping you from swapping out your tires twice a year.
A Final Word on All-Season vs All-Weather Tires
The pros at Les Schwab can help you decide if a set of all-season, all-weather, or seasonal change-out to winter tires would be best to keep you and your family safe on your region's winter roads. Stop by or schedule an appointment to get the answers, tires, and other safety services you need at a Les Schwab tire shop near you.