How to Avoid & Prepare for a Flat Tire on Your RV or Trailer
Family adventures in your RV or with your trailer in tow can come to a screeching halt with just one flat tire. Now what? If you're planning ahead and wondering what you'll need to change a flat tire on your RV or trailer, we've put together some tips and a list of tire-changing tools you'll need for your own vehicle.
We talked to some of our tire experts at Les Schwab who spend most of their summer weekends exploring their favorite places across Oregon in their RVs or with their trailers in tow. In fact, we even checked out some of the toolkits they carry in their RVs and trailers to see what they take along. Here's what we found and what they recommend.
Start With the Spare
Your RV or trailer spare tire is one of the most important items you can carry when you travel. Without it, you may be waiting for roadside assistance or unhooking your rig and driving back into town to fix the trailer tire.
Before you head out, bring your RV or trailer into the Les Schwab Tire Center near you. We'll check all of your tires, including your spare for cracks, separating tread, and other issues that could leave you stranded.
Les Schwab Tip: Be sure your spare is easily accessible. If it's not mounted to the back of the RV or trailer, put it somewhere that is easy to reach.
Visually Inspect Your RV and Trailer Tires at Every Stop
It's tough to tell if your RV or trailer tire is on the verge of tire failure or a flat. Every time you stop for gas, bathroom breaks, or meals, check all the tires for wear, escaping air, and cracks. If you notice anything unusual, get to the nearest Les Schwab before it becomes a problem.
Les Schwab Tip: If your tire goes flat anywhere near one of our locations, we may be able to come to you during regular business hours. Give us a call.
Check the Tire Pressure
A lot of RV and trailer tire failures happen because of low tire pressure. With a simple gauge, an electric pump, or a trip to Les Schwab, you can help keep your tire pressure at an optimum level. Check out Using a Tire Pressure Gauge for more helpful advice.
Pack Extra Tools
Do you have all the right tools to change ALL of the tires on your RV or trailer? This list should help you get back on the road quickly if you ever need to change a flat tire.
Leather Gloves to protect your hands. Our tire experts have changed thousands of flat tires and they list heavy gloves as a must-have. Any gloves are better than nothing, but they affirm that leather gloves are more durable when handling heavy, hot metal.


Bottle Jack is a compact lifting device that comes in a variety of sizes and lifting capacities. Bring a piece of plywood with your bottle jack to help stabilize it and prevent it from sinking into the ground if the shoulder is soggy, the asphalt is hot, or if it's otherwise unstable. You'll be glad you have it if you find yourself with a blowout in a muddy patch of road.


Long Handle Lug Wrench comes in a variety of sizes and is essential for loosening the lug nuts. You'll also need sockets that fit the lugs on EVERY wheel. Remember to check the spare, too. Those lugs can often be a different size.


Torque Wrench will help you tighten the lugs properly without damaging the wheel studs. Incorrect tightening of the lug nuts can cause a loss of torque pressure between the wheel and the mounting surface, potentially causing the wheel to come loose.


Socket Set and Cordless Impact Wrench and/or Gun to make some of the work easier. You'll still need the lug wrench to loosen each lug and the torque wrench to tighten them properly.


Bolt Cutter. Those who've been traveling by RV or hauling trailers for a while have changed a flat or two over the years. One thing they've learned to always carry is a bolt cutter to remove the steel cords from a tire that has failed and wrapped itself around the axle. Long handles can help reach where you need it.


Reflectors or Flares don't need to be expensive or heavy duty to help alert traffic and keep you safe. In addition to turning on your hazard lights, place one reflector close behind your RV or trailer and another 10-15 feet farther away. (Not Shown)


Mat or Towel to protect your knees from the inevitable, unforgiving pavement and rocks. You'll appreciate the protective layer to keep your clothes a little drier and cleaner when the road is hot and dirty in the summer or cold and icy in the winter. (not shown)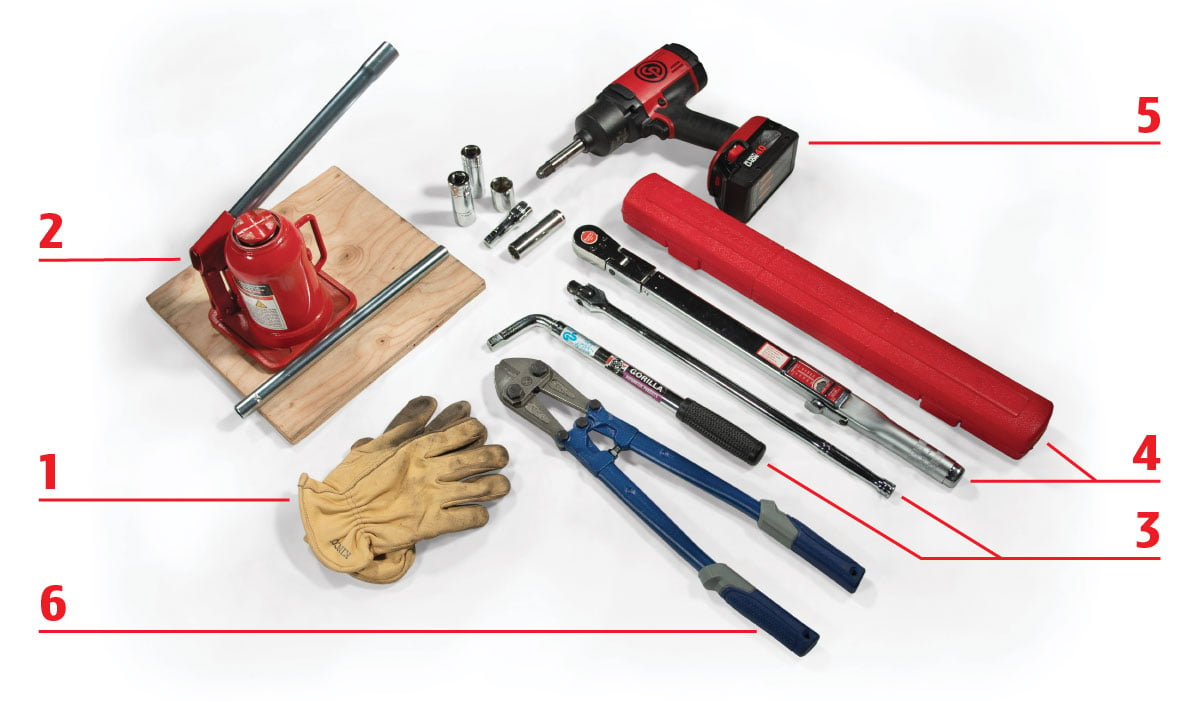 Other Tips for Getting Your RV or Trailer Ready for the Road
Before you head out, we've compiled our top 10 tips to get your RV or trailer ready for the road. As you're planning your road trip, use this handy interactive essential road trip checklist to make sure you and your vehicle are as prepared as possible.
Les Schwab Knows RV and Trailer Tires
Your local Les Schwab carries the right tires, wheels, and accessories for your RV or trailer, plus we're here to inspect your tires, including your spare, and offer helpful advice for your next outing. Stop by or schedule an appointment today.
Find A Store