How to Choose the Best Tires for Your Crossover or SUV
When it comes to putting the right set of tires on your SUV, there are a lot of choices. The best place to start is with the size of your SUV or crossover, where you'll be doing most of your driving (in the mountains or on the highway), and the weather conditions you'll face throughout the year. We've put together some quick answers to help you decide on the best SUV tires for your terrain and driving habits.
Yes, You Can Put Truck Tires on an SUV
However, it can get complicated depending on the size of your SUV. Standard passenger tires are often installed as original equipment on most compact and midsize or crossover SUVs. Midsize SUVs include models such as the Honda Pilot, Ford Explorer, and Toyota Highlander. Smaller SUVs range from models like the Toyota Rav4 to the Subaru Crosstrek. Some examples of large SUVs include the Toyota Sequoia, Nissan Armada, and the Ford Expedition.
If you have a full-size or larger SUV, there may be multiple truck tire options available for your specific needs. If you want a set of tires you can use year-round and in just about any weather conditions, upgrading to a more rugged tread design may be a good recommendation. Your local Les Schwab can help you narrow your choices and get the right set of tires for your needs.
H/T (Highway Terrain) Tires for Daily Commute and Highway Driving
There is a good chance your SUV came with a set of H/T tires. These tires are designed for highway driving in both dry and wet road conditions. One of the best choices to maximize your SUV's highway performance in any season, and enjoy a smooth, quiet ride is with a set of Back Country Touring H/T tires.
Just be aware that H/T tires aren't designed for extreme winter weather conditions, or prolonged use on gravel roads or in off-road conditions. If you plan to take your vehicle into the snow or off the highway, it may be best to move to an A/T tire for better traction and performance.
Why Choose H/T Tires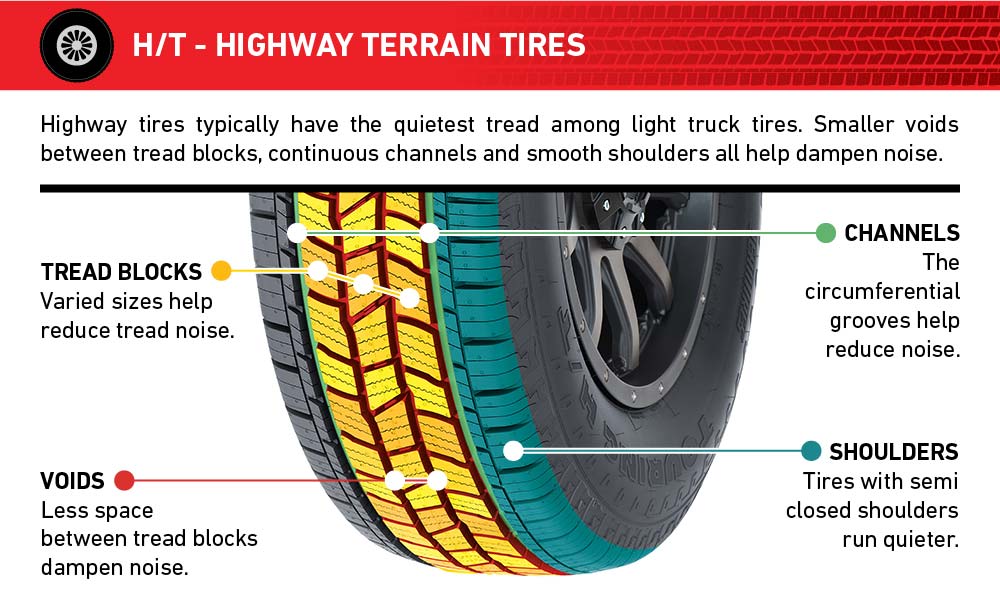 A/T (All-Terrain) Tires for Winter Driving and Off-Road Conditions
If you occasionally drive in the snow or other winter conditions, as well as dirt and gravel roads, A/T tires are a good option. Some A/T tires are designed for improved all-weather, year-round driving. The deeper tread design, like that of the Open Range A/T, is designed to take on snow and other winter conditions, as well as off-road while maintaining a quiet ride on the highway. However, they may not be as quiet as a set of H/T tires.
Why Choose A/T Tires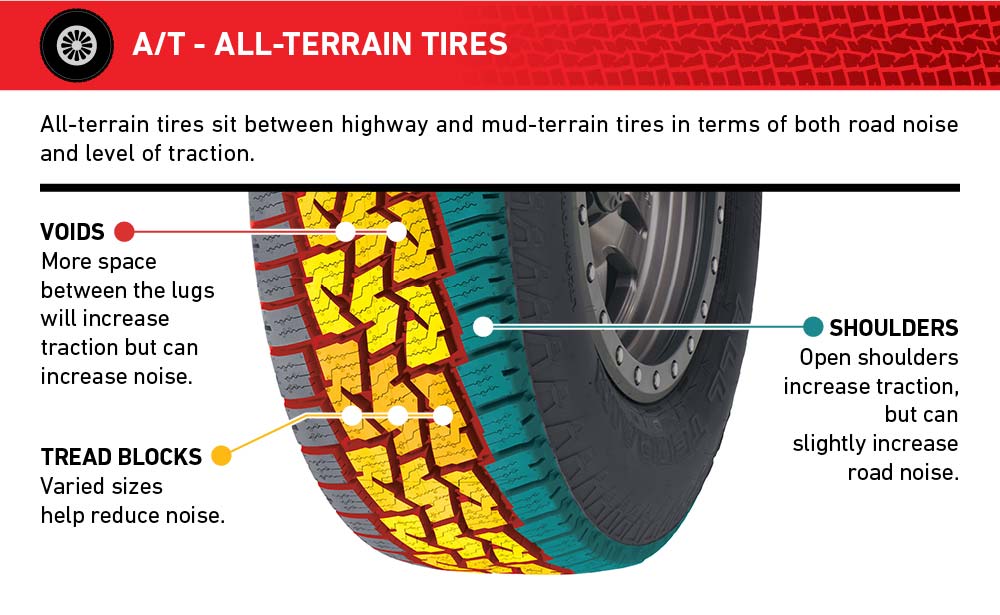 Plan on driving to the mountains this winter? Check out a set of Himalaya SUV for your vehicle. These tires are designed to help you stay on the road in the harshest winter weather conditions. Plus, they can be used with or without studs for added grip.
Get Your SUV Tires at Les Schwab
Stop by your local Les Schwab for answers to all of your SUV and crossover tire questions. Our experts will be able to recommend several tires based on your driving needs, budget, and safety concerns.
Schedule an Appointment