How to Choose the Right Truck Tire
Choosing the right tires for your vehicle is an important decision. When you drive a light truck, SUV, or crossover, the tires you choose can have a direct impact on traction, comfort, road noise, tread life, and durability. Here's a quick guide to help you decide what truck tires are the right fit for your on- and off-road needs.
H/T (Highway Terrain) Tires for Daily Commute and Highway Driving
Chances are your SUV, crossover, or light truck came standard with a set of H/T tires built for highway driving. If you don't plan on going off-road, and want a tire that's great for dry and wet road conditions, then an H/T tire is probably a good option.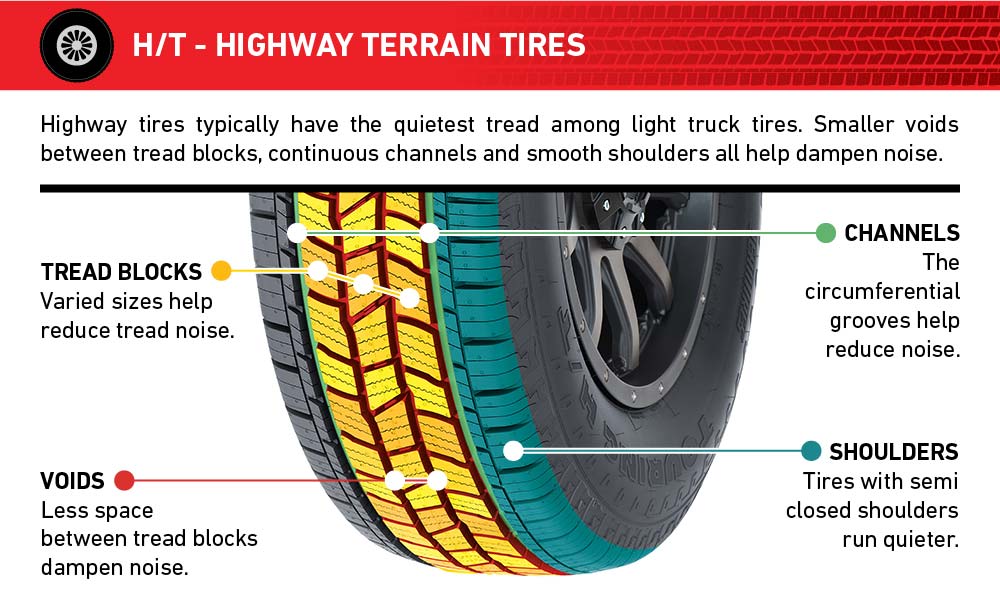 Benefits:
Smooth and quiet ride
Wet weather performance
Long tread life
Les Schwab Tip: H/T tires aren't designed for prolonged use on gravel roads or in off-road conditions. If you plan to take your vehicle off the highway, it may be best to upgrade to an A/T tire for better traction and performance.
A/T (All-Terrain) Tires for On- and Off-Road Performance
Drivers who regularly find themselves taking dirt and gravel roads in between long stretches of highway driving, should look at A/T tires. This includes folks who like to take the road less traveled on their way to a great camping spot or other outdoor activity.
The deeper tread design is optimized for a comfortable ride on pavement, but built to grip in other conditions. Additionally, some A/T tires are built for all-weather, year-round driving including snow and rain.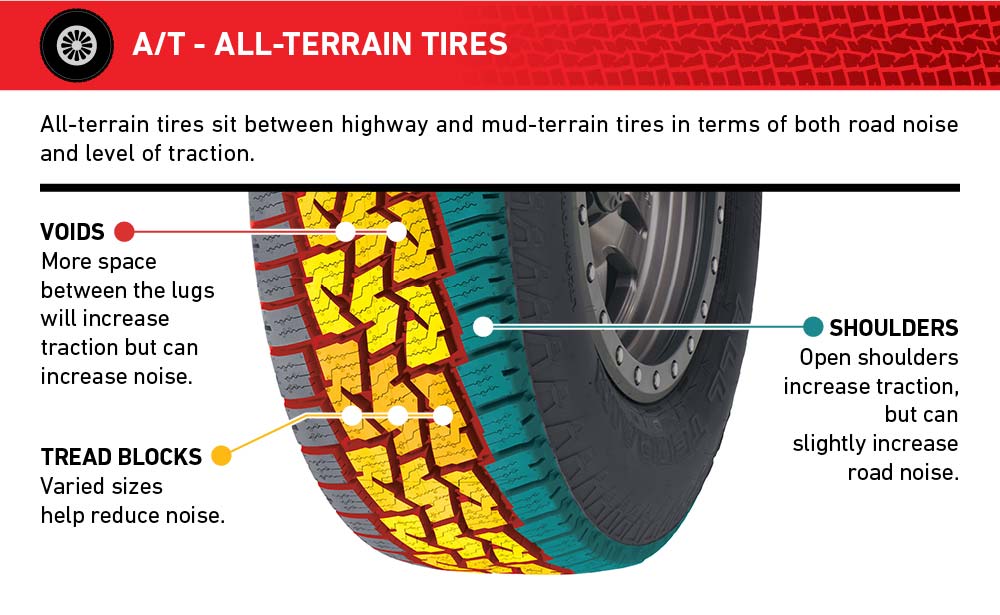 Benefits:
More aggressive looks (gives your vehicle a great appearance)
All-weather traction (including wet and winter conditions)
Long tread life
Durability
Les Schwab Tip: Because A/T tires are more rugged than H/T, there can be a slight increase in road noise. However, A/T tires offer the best of both worlds with comfortable daily driving, off-road performance, and visual appeal.
M/T (Mud Terrain) Tires for Off-road Enthusiasts
You know who you are. You drive a rig that is either lifted or already offers plenty of clearance for your favorite pastime: driving in extreme off-road conditions, including mud, dirt, gravel, and rock. Or maybe you just like the way a set of rugged, aggressive tires looks on your vehicle, even if they never leave the blacktop. Either way, M/T tires are for you.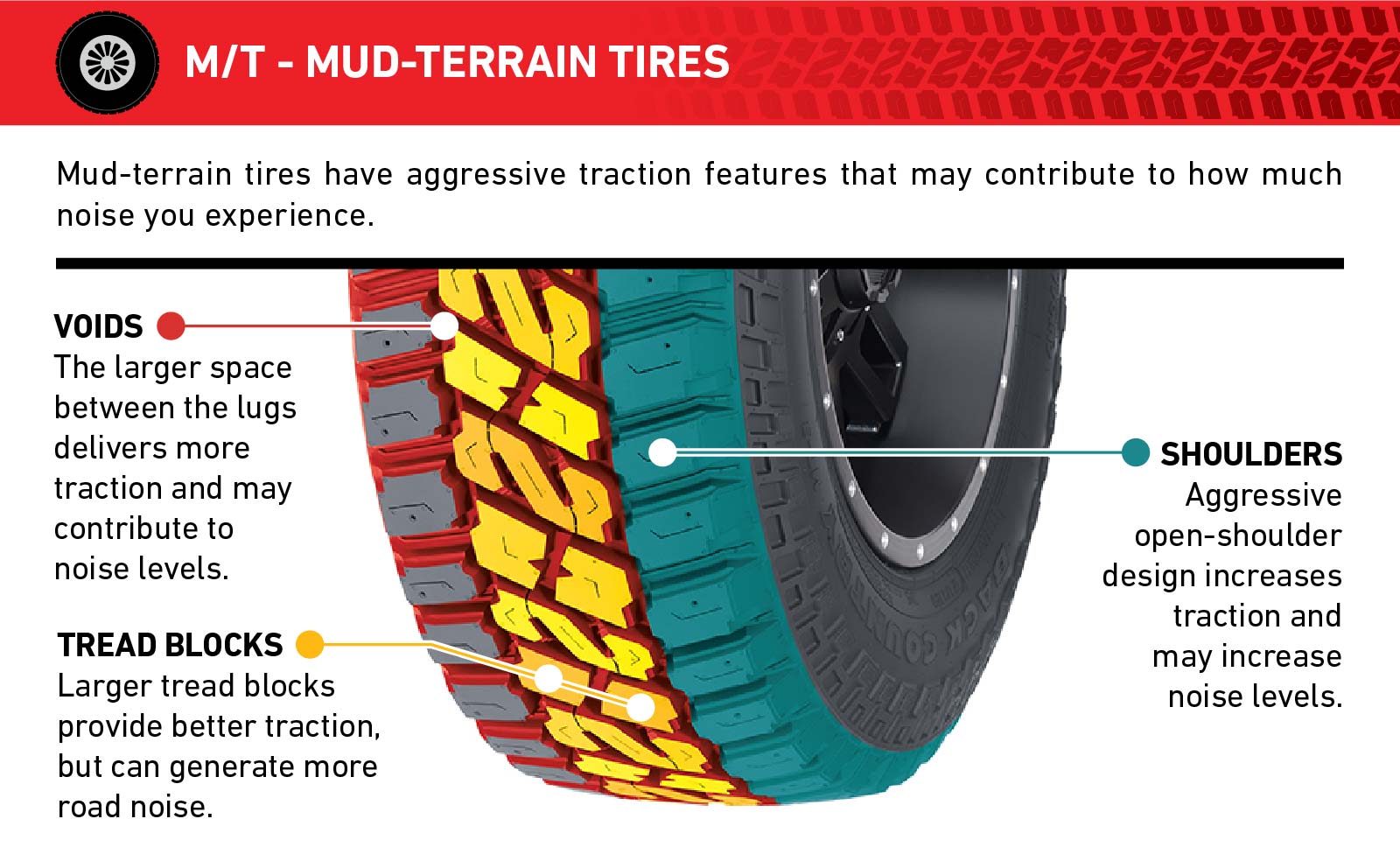 Benefits:
Aggressive looks
Maximum durability
Ultimate traction in mud, dirt, rocks, and gravel
Les Schwab Tip: M/T tires were first created for military and forestry applications, which means they're designed for extremely rugged conditions. Because of the special tread design, they can be noisier than A/T and H/T options.
Get the Right Tires for your Truck at Les Schwab
Our experts can give you advice based on your driving needs. Stop by today and we'll get you safely back on the road with our best tire value promise at no charge, including our lifetime tire and mileage care, and peace-of-mind tire protection.
Schedule an Appointment