Replacing Just Two Tires? Install Them on the Back.
All tires wear differently depending on how, where, what you drive. If two of your tires wear out faster, it may only be necessary to replace those two instead of replacing all four. If you do, it's important to have the two new tires installed on the back and the partially worn tires moved to the front – even on front-wheel-drive vehicles. Here's why.
Les Schwab Tip: When possible, we recommend replacing all four tires at once for a better grip on the road. This is especially true for all-wheel-drive vehicles where differences in tread depth can cause vehicle damage. See our article Should You Replace All Four Tires on Your AWD Vehicle for more information.
Wet and Icy/Snow-Covered Roads Happen
Wherever you live in the west, rain and snow create potential hazards when your tire tread is worn. Installing two new tires on the front or back can have a significant impact on how your vehicle reacts when traction is compromised. This could also be an issue on roads that have less traction, including dirt and gravel.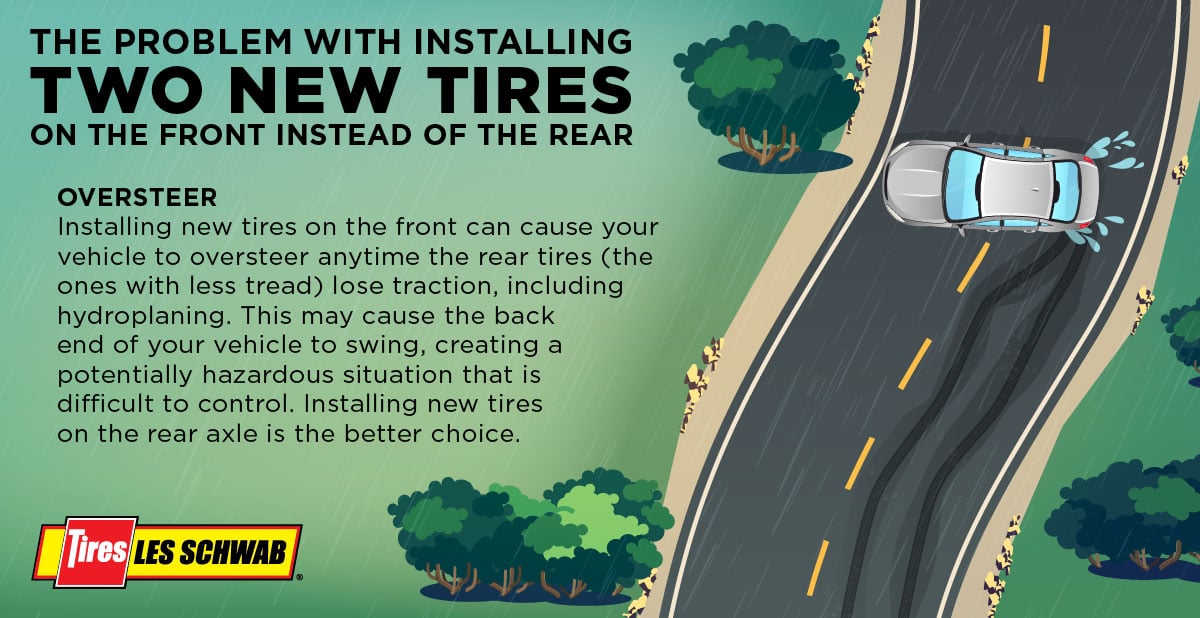 A Word on Hydroplaning
The first 10 minutes of a light rain are some of the most dangerous moments for hydroplaning. This happens when the tread on your tires cannot channel the water away fast enough and loses contact with the road. There are other factors, such as speed, vehicle weight, and tire pressure. But overall, it comes down to tread depth and the amount of water encountered. Check out our article on how to drive in the rain and avoid losing control for more information.
Rotate Your Tires Every 5,000 Miles
Proper tire rotation can extend the life of your tires. Stop by your local Les Schwab to have your tires rotated every 5,000 miles or six months. If any of your tires need to be replaced, our specialists will show you the options and get you safely back on the road. Schedule your tire rotation today.
We're Your Tire Experts
If you have questions about installing just two new tires on your vehicle, or simply need a pre-trip safety check before your next big family adventure, stop by your local Les Schwab. We've been helping people get to and from locations all over the west since 1952. We can do the same for you.
Find A Store