What Are All-Terrain (A/T) Tires & What Are They Used For?
You'll face all kinds of weather and roads throughout the West. For safety and performance, all-terrain (A/T) tires are the perfect combination of highway and mud-terrain tires to get you and your SUV or light truck to work or over the mountains without missing a beat. Here's what you need to know about A/T tires and when all-terrains might be right for you.
What Are All-Terrain Tires?
While the name all-terrain might imply off-roading, all-terrain tires are designed for the highway, local commutes, gravel roads, some off-roading, and most weather conditions including light snow. You'll still want a set of winter tires for safety and/or a set of mud-terrain (M/T) tires if you plan to do some serious off-roading. Bottom line, A/T tires are great if you use your vehicle to get groceries and take the family camping on the same weekend.
A/T tires can be a more versatile option than those that come standard on most SUVs or light trucks. With the added traction, all-terrains give your SUV, CUV or light truck a more aggressive look without sacrificing much in the way of fuel efficiency or ride comfort. However, the more aggressive the tread, the more noise they produce and the more they can affect your fuel economy.
What Are Aggressive All-Terrain Tires?
Want a more aggressive look for your vehicle? Some A/T tires offer wraparound tread. This means the tread rolls past the footprint of the tire to include several inches of the sidewall. It's an adventure-seeking look that never goes out of style.
That aggressive tread does more than look good, it also gives you more traction and protects the upper portion of the sidewall of your tires. This is nice when you're off-roading. Some A/T tires come with a reinforced sidewall for even more protection. A/T tires come in larger sizes if you plan to lift your vehicle.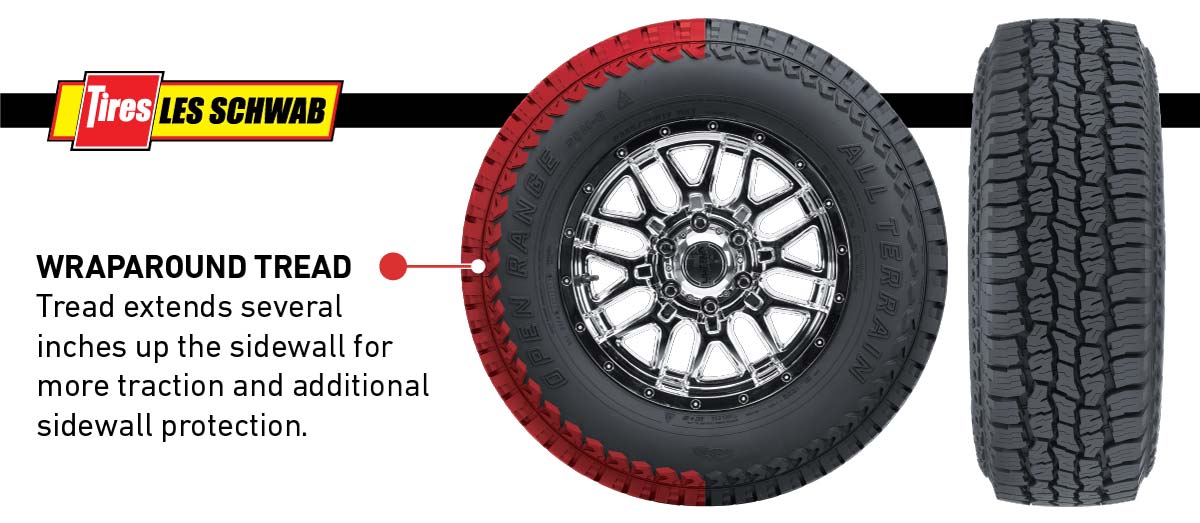 What Are All-Terrain Tires Used For?
All-terrain tires are a mix of highway-tires (H/T) and mud-tires (M/T). That means A/T tires are great for daily driving, most weather conditions, and some dirt or mud. If you regularly navigate paved, gravel, and dirt roads, A/T tires might be the perfect choice. Les Schwab can help you decide on the right tires for your vehicle.
Are A/T Tires Different Than All-Seasons?
Yes. The difference is in the tread. A/T tires have bigger voids and open tread blocks on the shoulders for added traction (the tread clears away mud, snow, and other debris as you drive). While most A/T tires are considered all-seasons, not every all-season is an A/T tire. Additionally, best-in-class all-season tires can offer better ride comfort, control, and fuel economy over a set of A/T tires.
What Types of Vehicles Use All-Terrain Tires?
AT tires are built for light trucks, pickup trucks, SUVs, CUVs, some smaller all-wheel drive vehicles, and campers. The pros at Les Schwab can help you decide what kind of A/T tires are right for your vehicle.
Are All-Terrain Tires Right For You?
From the highway to gravel and muddy trails, A/T tires keep you in control. While A/T tires can be noisier and may need to be replaced sooner than some all-season tires, the aggressive looks and added traction are a big bonus. Additionally, some A/T tires carry the three-peak mountain snowflake designation, qualifying them as a traction tire in more extreme weather conditions. Find the right AT tires for your vehicle at Les Schwab.
How Do I Know What Size All-Terrain Tires to Get?
You'll find all-terrain (A/T) tires for your SUV, CUV, or light truck at Les Schwab. We know what size you need for your vehicle and can show you all the options, whether your biggest concern is durability, ruggedness, performance, price, or a combination.