Get a Grip on Winter Tire Chains
Snow-covered roads have been an issue for drivers since the invention of the automobile. Back then, people would lash rope or vines around their tires for added traction on snow-covered and icy roads. Or they'd just hitch a sled to a team of horses and skip the car altogether.
Thanks to the creation of tire chains in 1904, the world has seen some innovative and effective ways of increasing traction on winter roads, including cable chains, link-fit chains, quick-fit chains, and tire sock traction devices.
Nothing Beats Tire Chains
Do a quick search for winter traction devices and you'll come across some interesting alternatives to tire chains. Those include oversized zip ties that lock in place over the outside of your tire by looping through the inside of the wheel.
Of those many options, not many can beat a set of cable chains, link-fit chains or today's cable-and-latch quick-fit snow chains that bite into deep snow and offer improved tire traction on icy roads. These chains are installed to the drive wheels of your vehicle. If you have front-wheel drive, the chains go on the front. Rear-wheel drive, the chains go on the back. Check your owner's manual if you have an all-wheel-drive or 4-wheel-drive vehicle. Or simply ask the experts at Les Schwab for help.
Quick-fit chains, cable chains, and link-fit chains can improve traction in even the harshest winter conditions, but you do need to drive slow, avoid spinning your tires, and take them off once you start seeing bare pavement.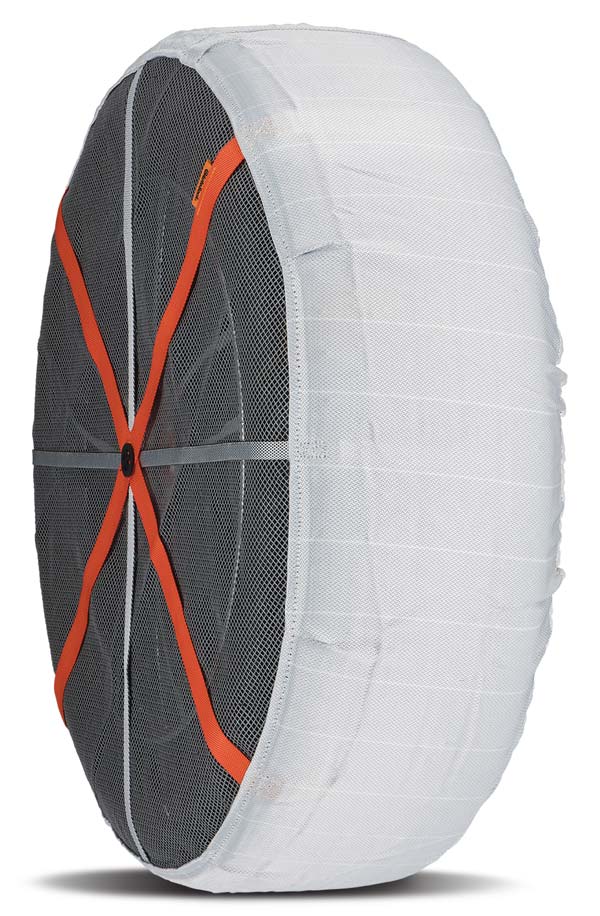 Tire Socks
Manufacturer recommended
for some vehicles.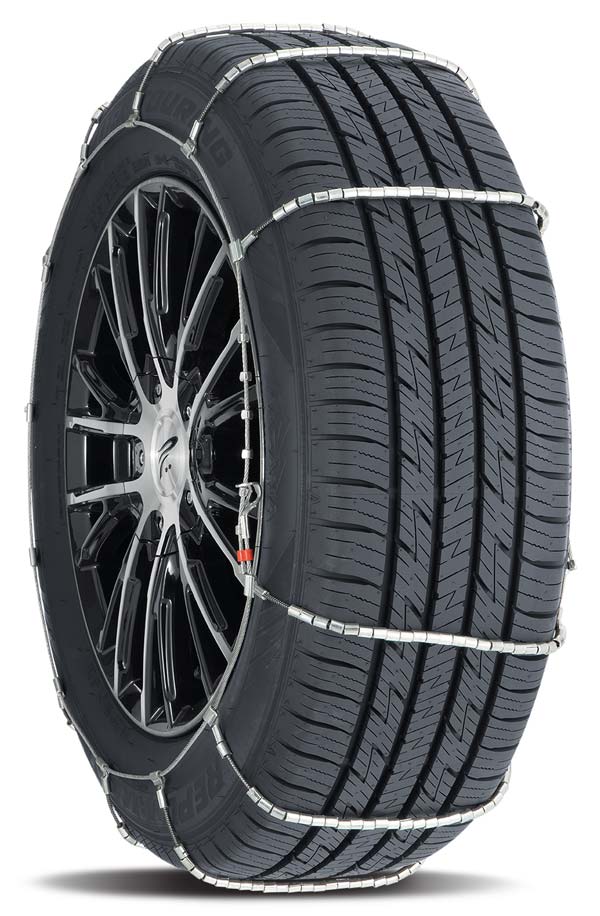 Cable Chains
Inexpensive for those
just-in-case moments.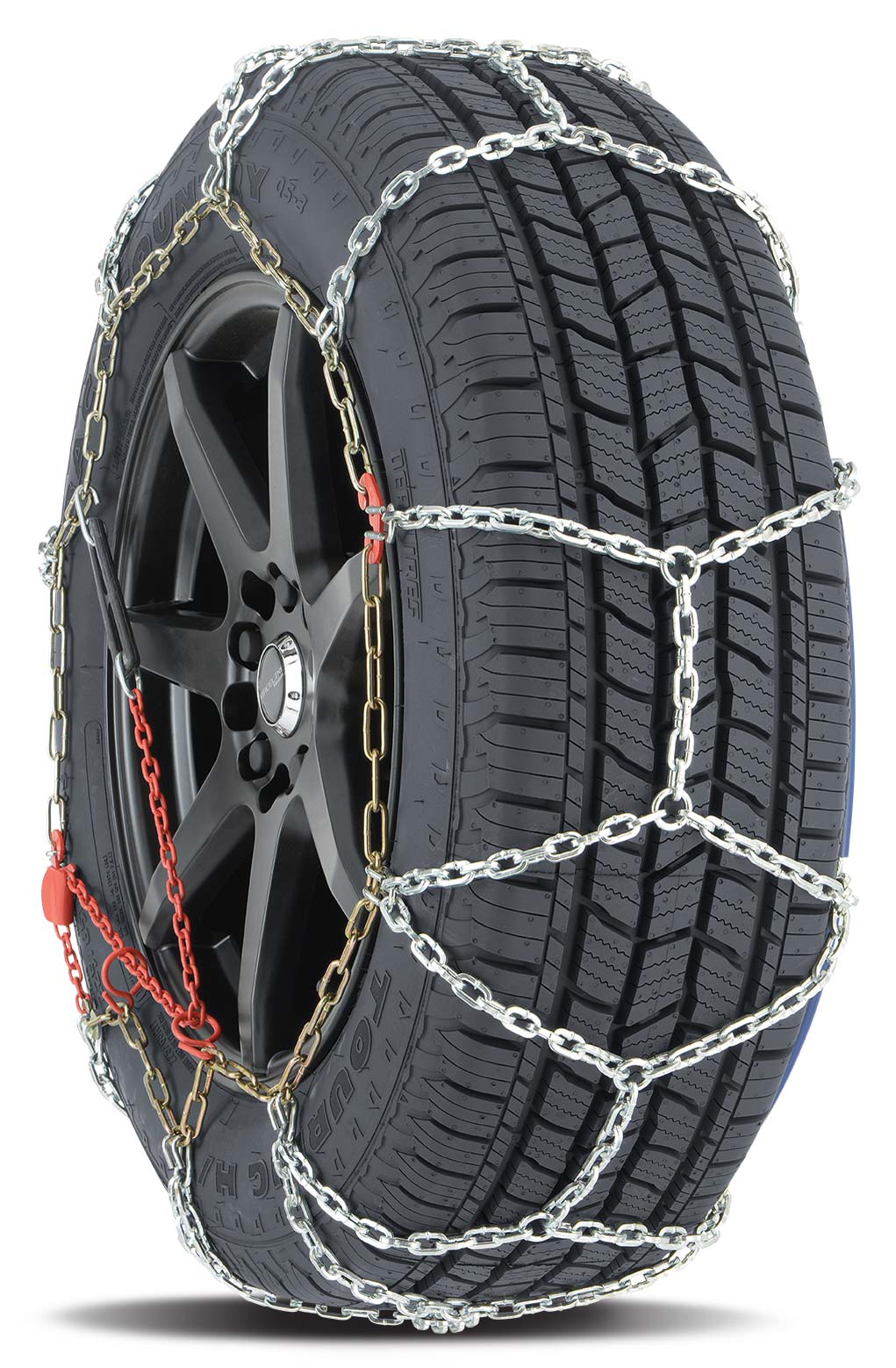 Quick-fit Chains
Easy to install and ideal for
the best traction on the road.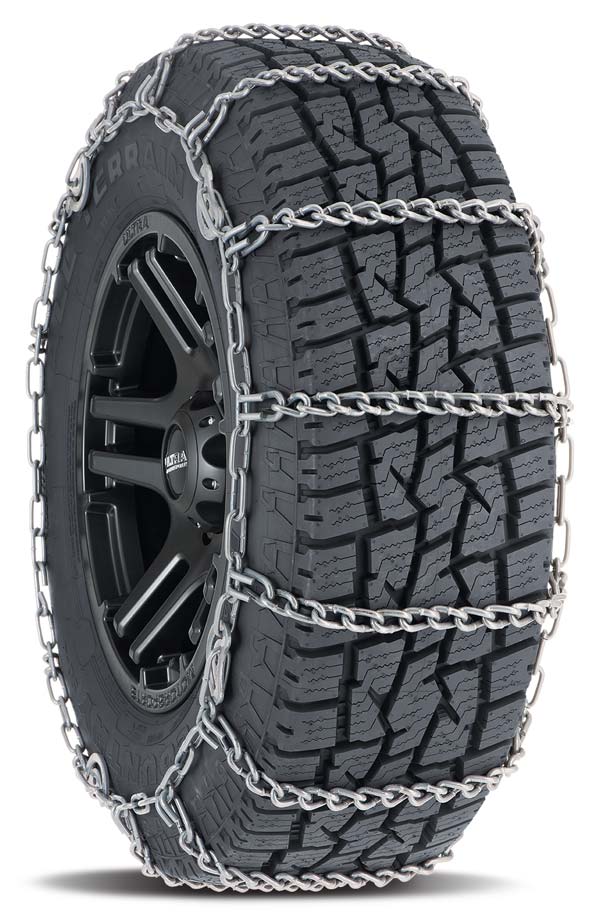 Link-fit Chains
Heavy-duty option. Some
available for off-road use.
Find a set of snow chains for your vehicle at your local Les Schwab. Learn how to install quick-fit chains.
Pull on a Pair of Tire Socks
Anytime you face winter's fury, traction quickly becomes your top priority. For today's performance vehicles, as well as cars and trucks with limited clearance between the tire and wheel well, a set of good snow tires have always been a great option if the manufacture of your vehicle doesn't recommend using quick-fit chains. But now, you can add tire sock traction devices to your list of options.
What are tire sock traction devices? Invented in Scandinavia, they're like a pair of socks for your tires. They have grippy bottoms that align with the tread on your tires and pull over your whole wheel and tire set in seconds. But, unlike a set of chains, they need to be replaced once 50% of the white road-contact fabric is gone. If you drive on bare pavement at all, it won't take long to wear them out.
Similar to chains, they are installed on the drive wheels of your vehicle. If your car, SUV or truck is front-wheel drive, the socks go on the front. Rear-wheel drive, the socks go on the back. And if you have an all-wheel drive, stop by Les Schwab and we'll help you decide. Also similar to chains, it's important you drive slowly and avoid spinning your wheels when they're installed.
Find a set of tire sock traction devices at your local Les Schwab.
Return Your Unused Devices in the Spring for a Full Refund
At Les Schwab, we carry snow chains and tire socks for passenger cars, SUVs, and CUVs. If you don't use your chains or tire socks all winter long, you can always return them in the spring for a full refund.
Get the Right Traction Devices for Your Vehicle
Stop by your local Les Schwab. Our team of pros will show you all the options and send you home with the right size and option for your vehicle.