When to Choose All-Terrain Tires or All-Weather Tires
Driving conditions throughout the West are often unpredictable. The type of tires you have on your vehicle should depend on where you live, what kind of driving you do, and the weather conditions you can expect year-round. Here are the differences between all-terrain vs. all-weather tires and when either option could be right for you.
Please Note: Depending on your vehicle and tire size, both options may not be available. For example, all-weather tire options might not be available for a full-size pickup truck or full-size SUV. However, many all-terrain tire options available for these vehicles will have all-weather tire characteristics. For CUVs and smaller SUVs, all-weather and all-terrain tire options may be available and warrant consideration.
What Are All-Terrain Tires?
All-terrain tires are designed for the highway, local commutes, gravel roads, some off-roading, and most weather conditions, including light snow. With the added traction, all-terrains give your SUV, CUV or light truck a more aggressive look without sacrificing much in the way of fuel efficiency or ride comfort. However, the more aggressive the tread and that look, the more noise they can produce and the more they can affect your fuel economy overall.
Bottom line: A/T tires are a great choice if you use your vehicle to get groceries and take the family camping on the same weekend.
When and Why Should I Use All-Terrain Tires?
All-terrain tires are a mix of highway tires (H/T) and mud tires (M/T). That means A/T tires are great for daily driving, most weather conditions, and some dirt or mud. If you regularly navigate paved, gravel, and dirt roads, A/T tires might be the perfect choice. Les Schwab can help you decide on the right tires for your vehicle.
What Are All-Weather Tires?
All-weather tires offer winter-driving capabilities along with capable performance in all other seasons. Instead of changing your tires twice a year (from summer to winter tires and vice-versa), all-weather tires handle great in the summer and offer better grip than standard all-season tires in winter driving conditions.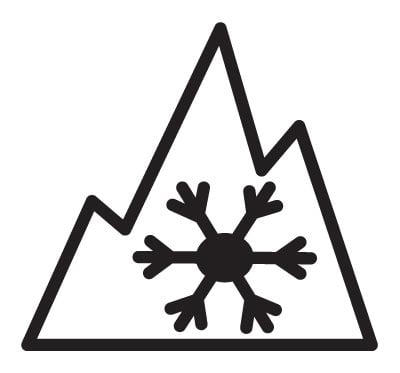 Additionally, all-weather tires are severe snow-rated (3-Peak Mountain Snowflake (3PMSF)), offering measurable performance in the snow and ice. This qualifies them as a winter traction tire for mountain pass restrictions. These tires are made from a special rubber compound that stays flexible in colder temperatures, but still performs like an all-season outside the winter months.
Add to that a mud and snow rating (M+S) and you're all set for nearly any weather you might encounter. While winter-specific tires are still a good idea for ice or snow-covered roads, all-weather tires take the hassle out of annual tire changeovers while still offering peace of mind in almost any weather.
Please Note: If you drive a larger SUV or full-size truck, all-weather tires might not be available in your size. But you may still have all-terrain options with the 3PMSF designation, which qualify as traction tires for mountain passes (similar to all-weather tires).
When and Why Should I Use All-Weather Tires?
A set of all-weather tires can give you peace of mind for a coming snowstorm, while keeping you from swapping out your tires twice a year. If you consistently face winter driving conditions but don't require or want a set of dedicated winter tires, all-weather tires could be the right fit.
Choosing Between the Two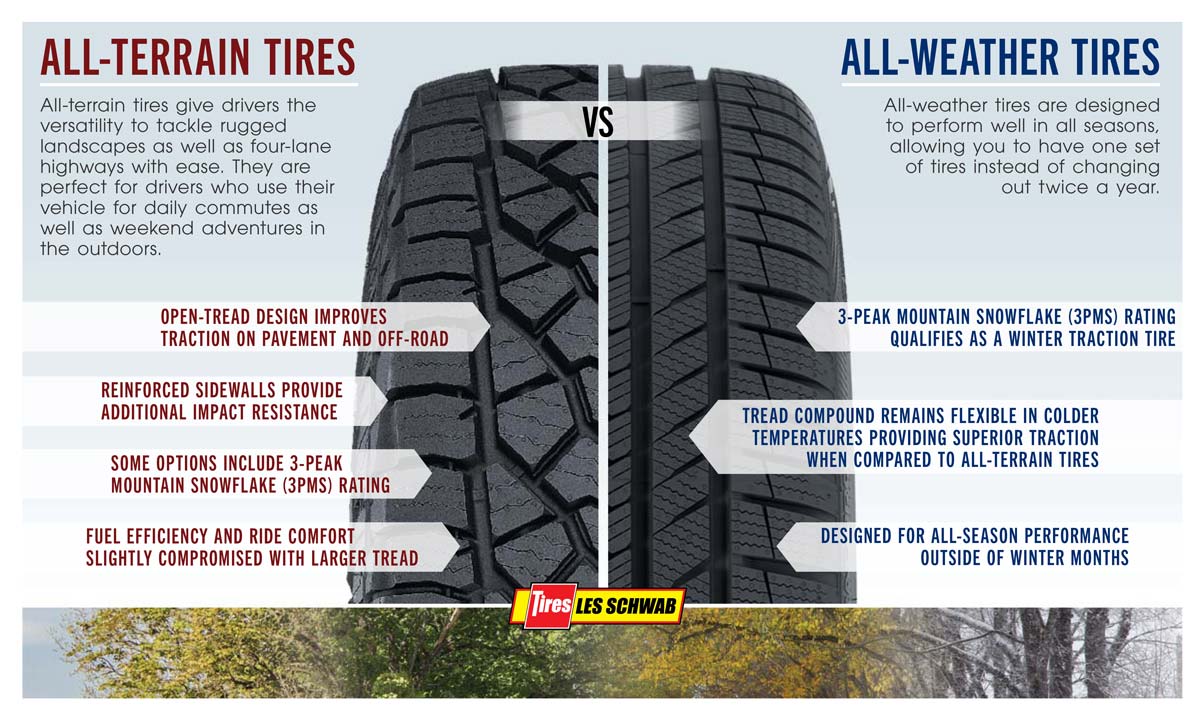 All-Terrain Tires
All-terrain tires give drivers the versatility to tackle rugged landscapes as well as four-lane highways with ease. They are perfect for drivers who use their vehicle for daily commutes as well as weekend adventures in the outdoors.
Open-tread Design Improves Traction on Pavement and Off-road
Some Options Include 3-Peak Mountain Snowflake (3PMSF) Rating
Reinforced Sidewalls Provide Additional Impact Resistance
Fuel Efficiency and Ride Comfort Slightly Compromised with Larger Tread
All-Weather Tires
All-weather tires are designed to perform well in all seasons, allowing you to have one set of tires instead of changing out twice a year.
3-Peak Mountain Snowflake (3PMSF) Rating Qualifies as a Winter Traction Tire
Tread Compound Remains Flexible in Colder Temperatures Providing Superior Traction When Compared to All-Terrain Tires
Designed for All-Season Performance Outside of Winter Months
Our Top All-Weather & All-Terrain Tires for Daily Driving
Let Les Schwab Help You Find the Right Tires
Wherever you drive throughout the West, there's a good chance you'll face some interesting weather along the way. Les Schwab can help you decide between all-season, all-weather, all-terrain, and other tire options to meet your needs and keep you safe on the road. Schedule an appointment today at a store near you.