Season of Sharing Is Upon Us
It is the most wonderful time of the year to be grateful for what we have and to share it with our community. Les Schwab Tire Centers are hosting food, toy and bike drives and more to help those in their communities in need.
Kicking off the holiday season with a Thanksgiving fundraiser, the Sacramento-area Les Schwab stores got behind this year's 10th annual Yuba-Sutter-Colusa United Way Turkey Drive. The stores served as collection sites for the $20 donations that bought turkeys, hams and holiday dinner fixings for families in the area. These donations were then shared with nearly 20 local nonprofit organizations who then distributed meals to local families.
Toy drives have been a fixture in Les Schwab's community giving: In California's Central Valley, 20 stores are participating in the third annual Fox 26 Les Schwab Tires Toy Drive. Store managers have set up appealing displays to encourage patrons to bring in new, unwrapped toys for children. Les Schwab Tire Centers are proud to work with local nonprofit Poverello House. Other nonprofits throughout the Central Valley can sign up at the Poverello House website to be among those organizations that benefit from these donations.
Meanwhile, nearby Les Schwab stores are tuning up their fleet of trucks for the 10-mile Parade of Toys that will deliver donations to the Sierra Vista Mall, in Clovis, Calif., on Dec. 15. In 2015, Les Schwab delivered 30 truckloads, which were distributed to participating charities.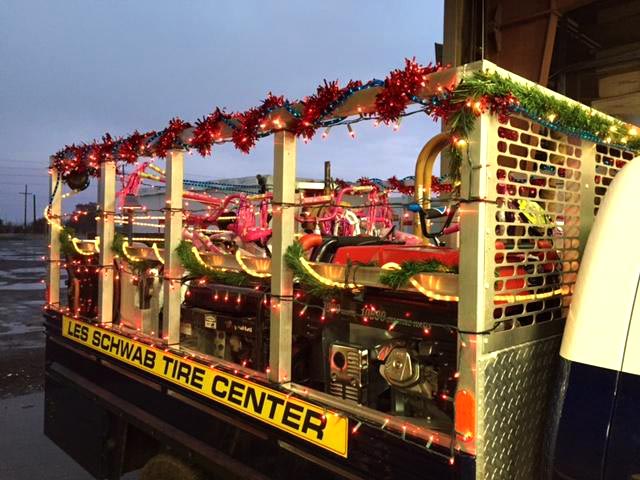 Les Schwab stores in Sacramento and Rancho Cordova, Calif., have their bike pedals to the metal participating in the CHiPS for Kids annual drive to raise funds and donate bicycles. Volunteers from the California Highway Patrol - Valley Division and other local organizations have already assembled the bikes and are anxiously awaiting the donation drop-off at the Cal Expo on Dec. 9.
In 2015, approximately 1,000 bikes were donated to area children. Keep an eye out for Les Schwab trucks and the California Highway Patrol, which will again transport the bikes and escort the caravan.
In Utah, where cold winters are a sure thing, having a warm coat is essential. To help those in need to stay warm, the North and South Logan Les Schwab stores have teamed up for the third year with the United Way of Cache Valley for the Warm Coat Drive, which benefits multiple Cache Valley charities. Customers can donate gently used coats, gloves and hats through Dec. 31 at both stores and the Cache County Sheriff's Office.
The Logan Les Schwab stores have also partnered up with the Cache County's Sub for Santa annual toy drive. Leslie Canada, director and participant for 30 years, is thrilled to have Les Schwab's help. In honor of the inaugural year, the Logan stores will give coupons for free tire rotations and free pre-trip safety checks to everyone who donates a toy.
Thank you to everyone who has come by one of our stores to keep this wonderful time of the year alive in many hearts. Happy holidays to all!
Find Your Store