Youth Ag Leader Grows Career With FFA Role
As a third generation Future Farmers of America (FFA) member, Lauren Millang brought a family legacy to her role as vice president of the FFA's California chapter. "I can recall my grandpa telling me about the different contests he competed in during high school and hearing about my parent's fair animals," she said. "I'm proud to be part of an organization that is rooted in tradition."
Lauren spent a year traveling throughout California facilitating FFA workshops, hosting conferences and learning about the agriculture industry. Over the four years that Lauren was involved with FFA, she found the experience invaluable in developing her agricultural knowledge and her leadership skills.
"I was blessed with opportunities to attend leadership conferences, compete on numerous teams, hold officer positions and even raise animals for our county fair," she said. "I know these valuable moments spent in FFA have prepared me for a future career in agriculture and have provided me with the tools and experiences I need to become a successful advocate for the industry."
Some of Lauren's most memorable FFA experiences include the Washington Leadership Conference in Washington D.C., as well as competing at the American Quarter Horse Youth Association World Show in Oklahoma and the FFA Nationals in Kentucky.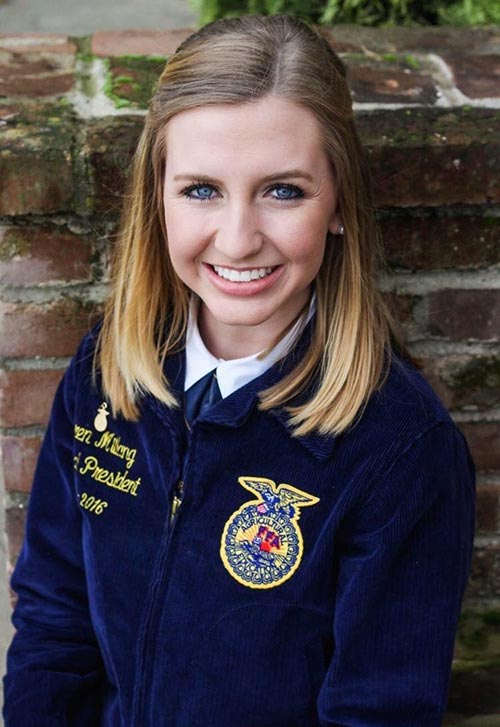 Lauren says the FFA offers a place for just about everyone who's interested in agriculture. "From computer sciences, to raising livestock, crop sciences or speaking contests, students can truly find their niche and excel," she said. "FFA is a unique organization that truly gives students a hands-on experience."
With her move into the VP role, Lauren graduated from a corduroy members jacket that said "Woodland-Pioneer" across the back to a one that says, "Association." "With this new jacket comes new opportunities, friendships, places and growth," she said. "Only one word comes to mind when I think of the journey ahead: gratitude."
Following her year as California FFA state vice president, Lauren is attending Oklahoma State University to pursue a double major in agricultural communications and business. "I am proud to be involved in an organization that creates the future leaders of the agriculture industry," she said. "And I am proud to be a future agriculturalist."
At Les Schwab, we're honored to support Lauren's hard work, dedication and leadership both in California's agriculture industry and its local communities.
Find Your Store