When Should I Replace or Buy New Tires?
The tires on your vehicle are built to keep you in control and safe on the road. Depending on where you live, the number of miles you drive, and how well you maintain some of your vehicle's most important safety features, those tires can last for many years. But eventually, you're going to need a new set. We have some recommendations to help you plan ahead and know when it's time to buy new tires.
Keep Seasonality & Weather in Mind
Tires don't wear at a constant rate. The life of those tires depends on how much work they do, the weather and temperatures they face, and how much they are driven on bare pavement.
If you live in a region that experiences freezing temperatures and plenty of snow, your winter or snow tires could need to be replaced after several seasons of use. Typically, you'll put them on in October or November and have them removed in early spring. All-season tires, when used year-round, can last for many years. Additionally, summer tires, when changed out every year, are designed for years of use.
When to Consider Summer Tires
Summer or performance tires are built for those who like a bit more control when cornering, accelerating, and stopping during the warmer months. If you're going to buy summer tires, it's likely to be when you change out of your snow tires in early spring. Stop by your local Les Schwab, and our pros will recommend the best time to switch out to a set of summer tires.
When to Buy Winter Tires
If you need winter or snow tires where you live, you're likely to buy them in October or November. Why then? Because you might need them for added safety on snow-covered roads. Also, most states allow drivers to begin using studded winter tires during those months. See when your state allows the use of studded snow tires in your area.
Additionally, if you're thinking about buying a set of snow tires, don't get them installed until morning temperatures routinely stay at or near 40º F and daytime temperatures don't get above 50º.
When to Buy All-Season Tires
Snow or winter tires are built for snow and ice. Summer or performance tires are made to deliver unbeatable control. But all-season tires are a little different. If you live in a region that does not see a lot of snow or ice, all-season tires can be a nice option. They offer greater traction in light winter weather conditions while sharing similarities to summer tires. The right time to consider new all-season tires is after changing out of winter tires in early spring or as the tread on your year-round tires reaches 2/32-inches. Learn more about tread depth and when to buy new tires, or ask the pros at Les Schwab about your options.
What Are Some Signs I Need New Tires?
Americans put an average of 15,000 miles a year on their cars and trucks, according to the Federal Highway Administration. Depending on the type of tires you have on your vehicle, they'll likely last for several years and keep you safe through many seasons. But there are things to look for that could tell you when you need new tires. These include flush tread-wear bars, cracked rubber, uneven tread wear, tire pressure problems, and bulges in the sidewall.
Les Schwab can check your tires for free. Just stop by, and we'll give your tires, wheels, and other safety features a free visual inspection.
Look for Signs of Tread Wear
Tires don't last forever. Driving conditions, weather, and how you drive can affect how fast the tread on those tires lasts. As the depth of the tread on your tires gets shorter, it can decrease control and reduce your safety. It's important to know how long tires last and look for signs of tread wear. That includes uneven tread wear, which can happen when your vehicle is out of alignment, your steering or suspension components are worn, or if you don't have your tires rotated every 5,000 miles.
To check the tread on your tires, all you need is a penny and these three steps:
1. Place the penny with Lincoln's head facing down between two ribs on your tires. Choose an area on the tire where the tread is lowest. This may be along the shoulder (near the side) of the tire.
2. If part of Lincoln's head is covered, your tires may still be okay.
3. If you can see the whole head (including his hair), get to Les Schwab.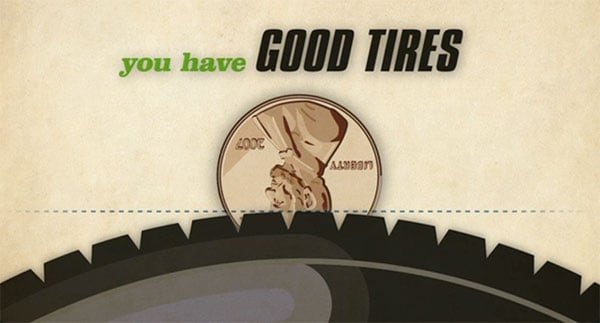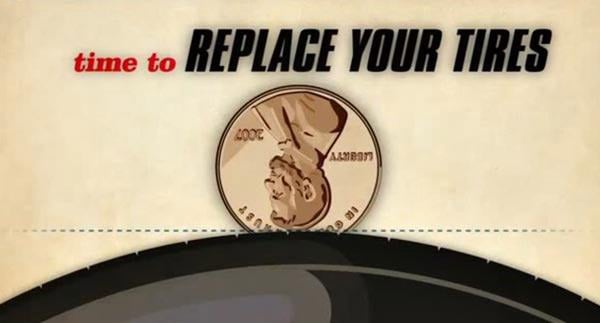 Stop by Les Schwab, and we'll measure the tread on your tires and give them a free visual inspection. If we find anything, including uneven tread wear, we'll let you know and show you all of your options.
The Benefits of Buying New Tires with Les Schwab
Your next set of new tires, as well as a long list of freebies, are waiting for you at Les Schwab. Let our pros check your tire pressure and top them off for free, give your tires and wheels a free visual inspection, and check other safety components on your car or truck.