Do You Even Need a Spare Tire?
The fact that spare tires are no longer standard equipment on many newer-model cars can come as a nasty surprise when you get a flat tire. While most new light trucks and larger SUVs still come with a spare, here's important news:
About 35 percent of vehicles now come from the factory without a spare tire.
Getting a flat tire is a major hassle and it can be costly. Here's what to know about spares, including why more autos are coming without them, how to decide if you really need one and the upsides and downsides of inflator kits.
Which New Car & SUV Models Don't Include a Spare?
There's no complete source for finding out, but the number is growing. See partial lists of spare-less vehicle models here and here.
On May 23, 2015, my 7-year-old granddaughter, my friend and I were stranded for four hours on I-84 west of Baker City, Oregon, with a blown-out tire and no spare. My brand new car did not come with a spare! I called my insurance emergency assistance four times. I waited for my insurance company to call and get a tow truck for about three hours. A local towing company wanted to charge me $530.00 to tow my car about 20 miles to Les Schwab in Baker City. I mentioned to the insurance agent that I wanted my car towed to Les Schwab so I could get a new tire. The insurance agent called Les Schwab and I spoke with Jake at the counter. Les Schwab came out with a new tire, changed it and we were back driving in about 30 minutes. I went back to the store and bought a spare. Thank you Les Schwab, you saved our day. Too bad the other businesses I dealt with on Saturday did not have your ethics for putting customers first. Thanks again for being there for us. You will be the first I call next time I need a tire changed, and I will recommend to my insurance company they need to put you on their call list.

– Penny M., Baker City, OR
The time to find out if your new or used car is going to come equipped with a spare is before you sign on the dotted line. Don't rely on the sales staff to volunteer the news. It can be difficult to tell which models come with a spare and which don't, since some trim levels will, but not all. Be sure by asking the sales rep directly. (And if you've recently bought a newer model car, be sure to check whether it has a spare, so you're prepared with an alternative in case of a flat.)
Why Aren't Some New Cars Coming With Spare Tires?
A bunch of factors are in play.
Efforts to improve fuel efficiency. Removing the spare can reduce a vehicle's weight by about 30 to 50 pounds, once you include the jack and wrench. It can also improve aerodynamics by reducing air drag from spare tire compartments that poke below the undercarriages of vehicles. These two factors can improve miles per gallon performance and help carmakers meet strict EPA standards for their full fleets, an attractive option for both car companies and energy-conscious drivers.


Need for more space in smaller vehicles. A spare can take up significant room in compacts, sports cars and small sedans. There can be a trade-off between comfort and the space in small cars.


Lack of storage space, especially in hybrids, diesels and electric vehicles. Batteries and emissions equipment for such vehicles sometimes now take up space where the spare used to go.


Reduced manufacturing costs. Yep, a carmaker can save several hundred dollars by foregoing the spare in new cars.
What Are Alternatives to a Spare Tire? Are They Any Good?
Some new cars are coming from the factory equipped with tires or inflator kits that claim to make the spare tire unnecessary. There are upsides and downsides to all.
Run-flat tires are designed to allow driving for a limited distance after losing air from a typical puncture. They are built with either a reinforced sidewall or an internal support ring to carry the vehicle's weight if the tire tread gets pierced. (The sidewall is the curbside face of the tire.)
Run-flats are made to travel from 10 to 50 miles under 50 mph when deflated, so you can get somewhere for service. Run-flats may also offer better control than standard tires when there's a tire failure involving complete loss of air.
Downsides: Driving on a run-flat for even the shortest of distances will ruin the tire. It will have to be replaced. Plus, if you're somewhere remote and get a flat, you may not be within range of the next tire repair shop.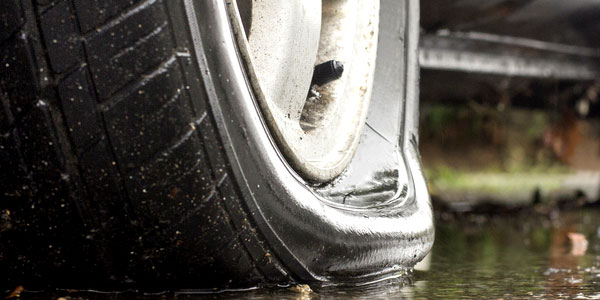 Self-sealing tires have a lining coated with special sealant inside the tire. When an object on the road pierces the tread, the sealant material "surrounds" the hole. Then when a nail or other debris is removed, the sealant fills the full area.
Downsides: The self-sealing tire won't work if a puncture is more than about a quarter of an inch in diameter. They also don't work for sidewall holes, so if an object goes through the tread to the sidewall you're going to have a dead flat and won't be going anywhere.
Inflator kits are a growing — but less-than-ideal — substitute to the spare tire. New autos with standard tires sometimes come with an aerosol seal kit. Such products offer a very temporary fix for minor tread punctures so you can get to a nearby tire store or service station for repairs.
Some are as simple as $10 canned products that plug small puncture holes by spraying sealant into the flat via the air-inflation valve and inflating the tire just a bit. Other tire-sealant kits include a small air cartridge and a replaceable container of sealant at a cost between $20 to $80.
Downsides: Tire sealant kits only work on small holes in the tread, and they don't work at all for slits or holes in the sidewall.
Sealants also leave grime inside the tire that can affect your TPMS (tire pressure monitoring system), the safety equipment that alerts you if you've lost air in a tire. Any time you use a sealant you'll need to have the TPMS sensors in your tires cleaned. And sealants can easily damage these sensors. You're looking at a cost of $45 to $100 per tire if they need to be replaced.
When Is It OK to Go Without a Spare Tire? And Not?
If you're buying a new car, here are five tips for deciding whether to get a model with no spare, based on where you live, what type of driving you're doing, cost, safety and convenience.
The freeway shoulder can be a dangerous place to change a tire. If you live in an urban area with 24-hour towing, and you're doing mostly daytime driving, you may be good with no spare. Just be sure you have AAA towing service ($69 a year for the basic package), roadside assistance coverage included in your auto insurance policy, or one of the new, on-demand services. Without it, a standard tow (around 5 miles) will cost you an average $109, according to Angie's List.


Decide up front if you're willing to go spare-less for the life of your vehicle. If you find yourself regretting your decision later, you'll pay more for an aftermarket tire, jack and lug wrench (typically $150 to $300) than you do when the kit comes as original equipment on a new car. Plus, there may not be a space to safely carry them in your vehicle if you bought a spare-less auto model.


If you take a lot of road trips, routinely drive in places with long distances between service stations, or travel a lot on rougher roads, you need a spare tire. Getting a flat in rural areas means you could be a hundred miles or more to the nearest repair shop. If it's after business hours, you could be looking at being marooned for hours, paying for a hotel for a night (or more if it's a weekend), leaving a vehicle loaded with gear or belongings on the side of the road, and paying a hefty towing fee over a long stretch of highway.
I lease my 2013 Hyundai. I came out after work to a flat tire. I opened my trunk and imagine my surprise when there was no spare tire. I called Les Schwab and they said they had a guy in the neighborhood and he would be right there. He came and put air in my tire and followed me to the nearest store. It was after closing, but they kept the bays open for me. They removed the screw from my tire and sent me on my way with no charge. Who does that? I am a fan and tell everyone I know!

– Peggy P., Sacramento, CA
Get a spare tire if you travel with small kids, especially if you're taking occasional road trips. Getting stranded with a flat and no spare can mean several hours of waiting for a tow, even in an urban area. This is sure to be stressful for parents and possibly unsafe for tots, especially if it's a really hot or frigid day.


If you have medical needs that need daily attention, better have a spare.
Flat tires can be a major, costly hassle — or simply a slight inconvenience. Especially in the West, where distances between tire service can be long and lonely, a spare tire is the most cost-effective insurance that you won't get stuck by the side of the road.
Les Schwab Tires provides free flat tire repairs on all tires purchased. Find a store.